Convicted Killer Jodi Arias Back In Court, Wearing Prison Stripes Uniform As She Tries To Have Cameras Banned During Death Penalty Sentencing Phase Of Trial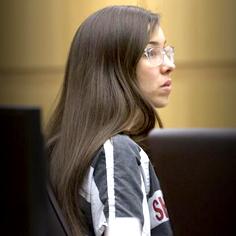 Article continues below advertisement
Her attorneys, Kirk Nurmi and Jennifer Willmott, have inundated the court with paperwork attempting to delay the final phase that could give their client either the death penalty, life in prison without parole or life in prison with parole.
During her trial, Arias spoke to the jury to beg for leniency in her sentencing, telling the jury that one of the things she did while locked behind bars was to donate her hair to the Locks of Love program three times since her arrest, but her long tresses in court on Friday seemed to indicate that she hasn't donated hair in a significant amount of time.
The hearing was a request to ban on cameras in the courtroom during the upcoming proceedings, something Arias is arguing for and the prosecution has been against. The judge did not yet make a ruling on the request.
The sentencing phase of Arias' trial is scheduled to begin on September 8, 2014.