Jodi Arias' Interview Demands: Refuses To Answer Questions About Travis Alexander & Death Penalty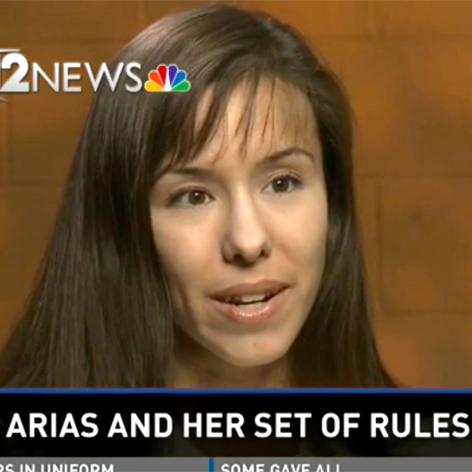 Convicted killer Jodi Arias was eager to sit down and give interviews this week before the jury returned their verdict about the death penalty, but she carefully orchestrated every detail of the filming and RadarOnline.com has all the details about her demands and the questions she refused to answer.
"To be completely transparent with you this whole interview only happened after Jodi Arias laid out her own set of rules," AZCentral.com shared in a video of the woman who was found guilty by a jury of the brutal murder of Travis Alexander.
Article continues below advertisement
What had to occur before the convicted killer https://radaronline.com/exclusives/2013/05/jodi-arias-judge-lifts-media-ban-murderer-says-she-would-be-doing-everyone-a-favor-if-she-died/ would even speak was a laundry list worthy of the biggest Hollywood celebrity.
"No showing her jail uniform, no showing her shackles and no filming while she brushed her hair or put on her makeup before the interview," Oralia Ortega from KPNX NBC in Arizona reported.
"She even told 12 News we had to bring foundation and waterproof mascara."
The video shows Jodi, 32, brushing her hair and asking "Are you filming?" and then anchor Mark Curtis hands her the foundation she requested.
He asked her a series of probing questions that Jodi refused to answer.
"If you could say something to Travis, turn back the clock, what would it be?" and she deflected his query, saying: "I don't think I should answer that questions right now."
Article continues below advertisement
Jodi is facing the death penalty but has asked the jury to spare her life and sentence her to life in prison, but she refused to reveal what her own beliefs on the subject were.
When Mark asked "Before this all happened did you ever have any opinions one way or the other about capital punishment?" she replied: "I did and I don't think I should share them in the end."
Jodi claimed that she had an unhappy childhood and suffered abuse at the hands of her mother during the trial, but she wouldn't comment on that during the interview.
"Did your upbringing influence what happened when you ultimately killed Travis Alexander?" Marc asked and again she didn't give a response.
"I don't know how to answer that," she said.
The jury is deliberating Jodi's sentence in the Maricopa County courthouse and RadarOnline.com will be live streaming any updates and the final verdict.
radar_embed service=brightcove src="http://c.brightcove.com/services/viewer/federated_f9?isVid=1&isUI=1" width="480" height="270" fv="omnitureAccountID=gpaper158&pageContentCategory=videonetwork&pageContentSubcategory=videonetwork&marketName=Phoenix&revSciSeg=J06575_10805|J06575_50507|J06575_50558|J06575_50709|J06575_50763|J06575_50778|J06575_50735|J06575_0&revSciZip=null&revSciAge=null&revSciGender=null&division=Newspaper&SSTSCode=gci-az-phoenix.com/video/news_Video_prestream&videoId=2403117471001&playerID=1659202266001&playerKey=AQ~~,AAAABvZFMzE~,IXjx0MpOF0p74gQ0oxWK0L1cZBcoHPoi&domain=embed&dynamicStreaming=true"