Cold Feet? Hillary Clinton's Reconsiders Presidential Bid As Bill Sex Scandal Unfolds — 2016 Campaign 'On Hold!'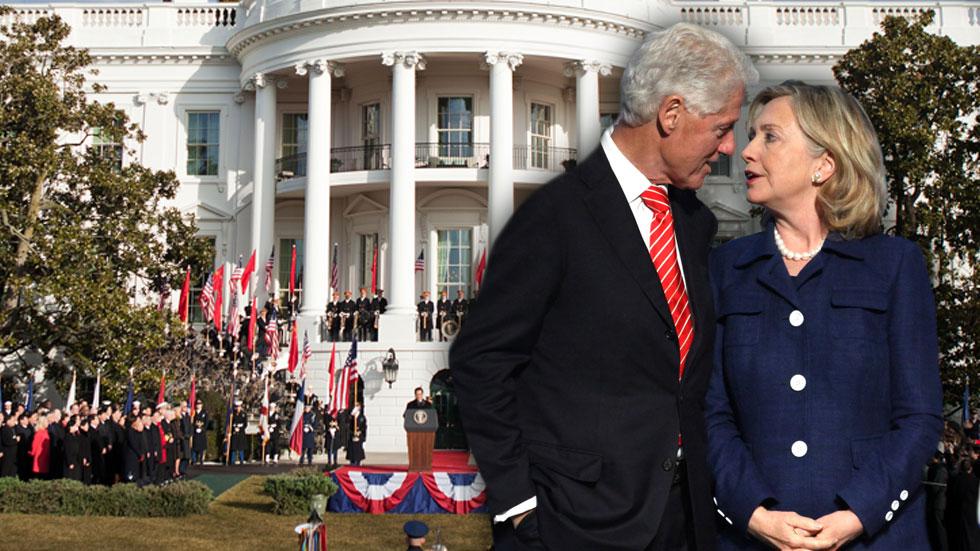 Hillary Clinton is considering scrapping her 2016 presidential ambitions because of revelations she fears could become public in the coming months concerning former President Bill Clinton's relationship with billionaire pedophile Jeffrey Epstein, RadarOnline.com has exclusively learned.
The former first lady had been expected to announce her 2016 White House bid last month, but she didn't. The spin from supporters is the lack of a strong Democratic rival gives Clinton more time, but RadarOnline.com's source says the RadarOnline.com stories about her husband's trip to Epstein's "orgy island" gave her cold feet.
Article continues below advertisement
Former "sex slave" Virginia Roberts, who claims she was forced to have sex with Prince Andrew and other powerful men, talked about Clinton's trip to Epstein's U.S. Virgin Islands estate in an interview with her lawyers obtained exclusively by RadarOnline.com last month.
Roberts has claimed that orgies were "a regular occurrence" on the island, and that she once had group sex with Epstein, Britain's Prince Andrew, and eight other girls. In the interview obtained by RadarOnline.com, Roberts claimed the former president visited Epstein's tropical retreat in 2002.
"I remember asking Jeffrey, 'What's Bill Clinton doing here?' kind of thing and he laughed it off and said 'Well, he owes me a favor,'" Roberts alleged. "He never told me what favors they were."
"He told me a long time ago that everyone owes him favors," she said. "They're all in each other's pockets."
Flight records obtained by RadarOnline.com confirmed Bill Clinton's numerous trips aboard Epstein's Boeing 727 — which Roberts said was equipped with a bed used for high-flying sex parties.
Article continues below advertisement
Roberts said in a sworn statement filed in court last month that despite some media reports, she never had sex with Clinton, nor witnessed him having sex with anyone else.
While the Clinton's might politically survive those accusations, RadarOnline.com's source says the big concern is what might be revealed if a federal judge orders the unsealing of the Justice Department's secret files on its investigation of Epstein.
Roberts and three other women are suing the government, arguing that their rights as sex abuse victims were violated by federal prosecutors who ignored them while negotiating a secret sweetheart deal with Epstein to stop the FBI's investigation of alleged human trafficking. They are demanding the court unseal the files.
Ironically, Ken Starr — the special counsel who investigated the Clintons' business deals and the White House sex accusations that led to Clinton's impeachment trial — was a key lawyer in convincing the Bush administration's Justice Department to halt the probe of Epstein and his friends in 2008, according to court documents.
Although the FBI identified dozens of alleged underage sex victims and evidence of suspected human trafficking, the government dropped the investigation in return for Epstein's agreement to plead guilty to two lesser state sex charges.