Exclusive
'I Wanted To Scream Out of Humiliation' — Teen 'Sex Slave' Reveals Horrifying Claims That Jeffrey Epstein Forced Himself On Her & Tricked Her Into Prostitution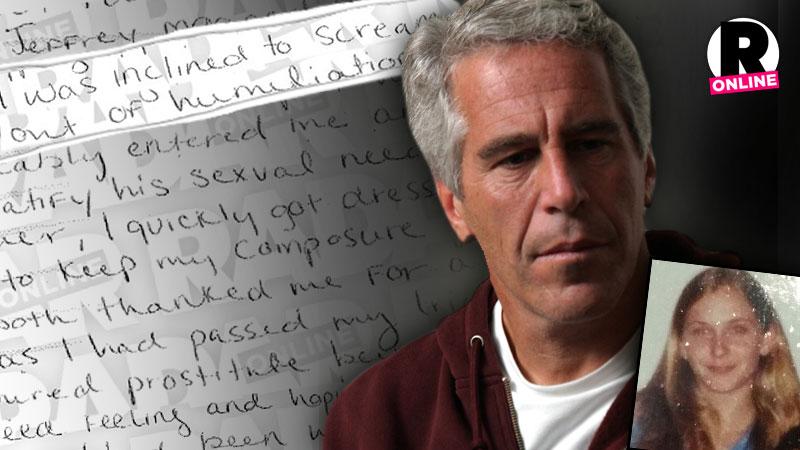 Twisted new details continue to emerge in the case of depraved pedophile Jeffrey Epstein. RadarOnline.com can now reveal just how low one alleged victim claims the billionaire banker stooped in his quest to find, and ultimately destroy, young girls — victims of his darkest sexual fantasies.
One of Epstein's "sex slaves," Virginia Roberts, was just 15 when she met the sick predator in September 1998, and she detailed in her diary —exclusively obtained by RadarOnline.com — how a chance meeting at her part-time job in the spa at Donald Trump's luxury Palm Beach, Florida, resort Mar-a-Lago changed her life forever.
Article continues below advertisement
Roberts was sitting in the spa and reading an anatomy book, because her goal was to eventually pursue a career in massage therapy. A "striking beautiful woman with dark hair and large brown eyes" approached her, and the two struck up a conversation, she claims in the entry. The lady introduced herself as Ghislaine Maxwell and revealed she worked for "a very wealthy gentleman who was always on the lookout for a new masseuse."
At first Roberts tried to explain that she never had any training, but Maxwell insisted she come by her boss's nearby mansion anyway, Roberts claimed.
"I agreed feeling and hoping this was the legit break I had been wanting. To be learning a profession at such a young age would put me ahead in my future…" she wrote in her diary.
Roberts immediately went to find her dad, who also worked at Mar-a-Lago. "I'm going to be a masseuse for the rich and famous, just like the women I see in the spa," she recalled telling him.
Article continues below advertisement
Roberts' father drove her to this mystery man's mansion so he could check out the situation. "My dad, like me, was only told the part of the offer that sounded good to any young teen or hopeful parent," wrote Roberts of the situation.
After thirty minutes of chit chat with Maxwell, she wrote, "my dad left, convinced I was on the right path."
With her dad out of the way, Maxwell led the teenager through the mansion until they reached a large bathroom with a steam room, according to the diary.
"My first impression of the lavish settings was astonished," wrote Roberts. "Then I turned to the direction where Ms. Maxwell's attention was focused, almost bedazzled by the décor I shook out of my entranced state and tried not to gawk at the naked man that lay atop a massage table."
"Unaware of what was actually supposed to take place momentarily, I acted calm and cool," continued Roberts. "She introduced Jeffrey Epstein as a multi-billion dollar banker and stock broker that took delight in a massage at least once a day."
Article continues below advertisement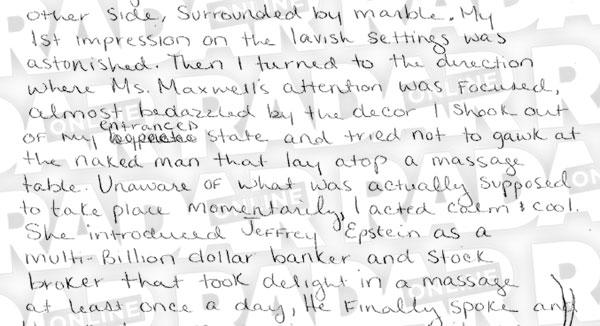 When Epstein finally spoke to the girl, she claimed that he thanked her for coming and told her it was "very nice to meet such a pleasant young lady."
But according to her account the niceties ended there.
With the naked Epstein lying face down, she claimed Maxwell showed Roberts how to massage the man's toes, back and other parts of his body, all the while they discussed the girl's future goals.
Wrote Roberts: "They really had me convinced they were smart, intellectual people wanting to help me learn a trade. I should've known nothing is for free."

Soon, she wrote in the entry, Epstein flipped over on his back to reveal his manhood. "Ms. Maxwell then took off her shirt and bra to unveil her large breasts and began to rub them along Jeffrey's torso," wrote Roberts. "She came up behind me after a brief moment and started to undress me."
Roberts was in a "hypnotic state of shock" during the transformed massage session, she claimed.
"I didn't know why this was happening but I knew what they desired me to do."
Article continues below advertisement
"I was asked to indulge Jeffrey in oral sex while Ghislane caressed me from behind, cupping my small breasts and feeling me inside," wrote Roberts in the diary obtained by RadarOnline.com. " I was inclined to scream out of humiliation for being so damned naïve…"

"Jeffrey moaned out of delight and pulled up my chin to look at me then guided my hips to sit on top of him, he next forcibly entered me and used his hips to gratify his sexual needs," Roberts claimed of the sexual assault. "As soon as it was over, I quickly got dressed, and not sure how to keep my composure, just kept quiet."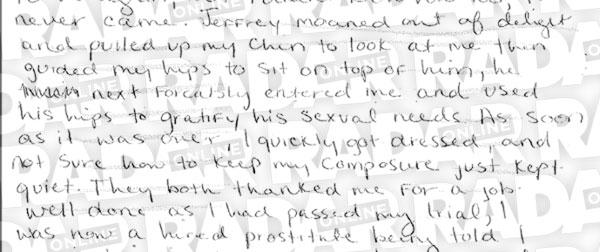 Epstein gave Roberts $200 for her two-hour session and the "deeply ashamed" girl headed home to process what had just happened to her, she alleged.
Keep checking RadarOnline.com for more explosive revelations from the secret private diary of Epstein's "sex slave."