Nick Gordon 'Pretty Torn' Up About Bobbi Kristina Brown's Health, Her Cousin Says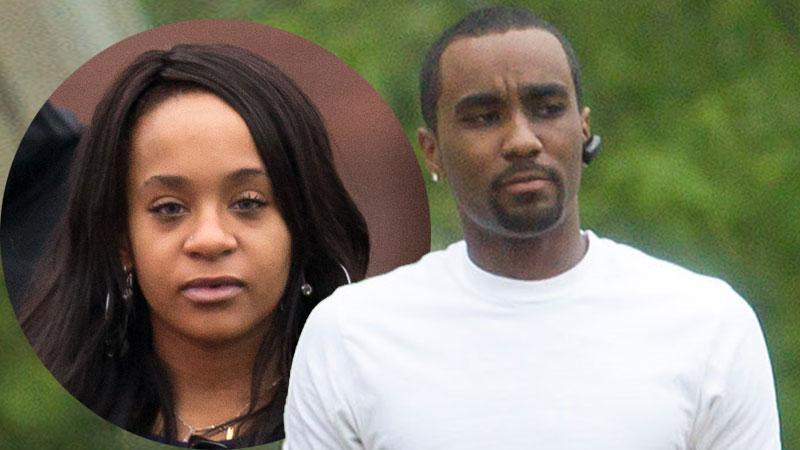 Bobbi Kristina's cousin Jerod Brown said Thursday that he's been the family's go-between with her boyfriend Nick Gordon, who's "pretty torn about about what's going on."
"I'm in contact with Nick -- to be honest with you, Nick is feeling very emotional right now behind all of this," Jerod Brown told the Atlanta NBC affiliate 11Alive. He said that in his discussions with Gordon, they "sit down and talk about things he wants my family to know and what we would love for Krissy to know, and that is that he loves her and is just waiting for her to wake up."
Article continues below advertisement
Jerod confirmed to the TV station that Gordon is, "at the moment," banned from visiting her bedside.
As RadarOnline.com previously reported, Gordon was barred from Emory University Hospital following run-ins with cops and Bobbi Kristina's relatives, and a preexisting restraining order Brown's aunt Marion "Pat" Houston had against him.
Gordon late Thursday denied reports he'd seek permission to visit through the legal system, via a statement from his lawyers Randy Kessler and Joe Habachy.
Watch the video on RadarOnline.com
"In response to reports that Nick Gordon is taking legal action, he would like it to be clear, he is not," the attorneys told the TV station. "Mr. Gordon's only concern is the recovery of Bobbi Kristina. He remains in constant prayer for his companion and he hopes to be reunited with her soon.
"Despite the incredible public interest, we ask and hope that this request can be resolved privately by Mr. Gordon and the family."
Article continues below advertisement
Jerod -- admitting the odds of Bobbi Kristina returning to full health "would be a miracle" -- said that while the family has contemplated taking her off the ventilator that's keeping her alive, they're relying on prayer for the time being.
"Right now, we have the chance to save Bobbi Kristina," he said, "and the best way we can save her right now if through prayer."
He said that the Brown and Houston families have been in relative harmony praying for the 21-year-old's recovery after she was found face-down in a bathtub Jan. 31.
"Everybody is doing their jobs being there at Krissy's side," he said, "and that's all that matters."
Jerod said the family banded together on Wednesday, the third anniversary of Whitney Houston's death.
"We all deal with it in our own way," Jerod said. "Auntie Whitney is greatly missed -- she would want the Houstons and the Browns to be family to support each other through this, to support Krissy, and not to make it an even more negative situation."