Exclusive
Gold Digger? Bobbi Kristina Brown's Aunt Claims 'Husband' Nick Gordon Demanded Cash, Made Violent Threats In Brutal Fight — Read The Police Report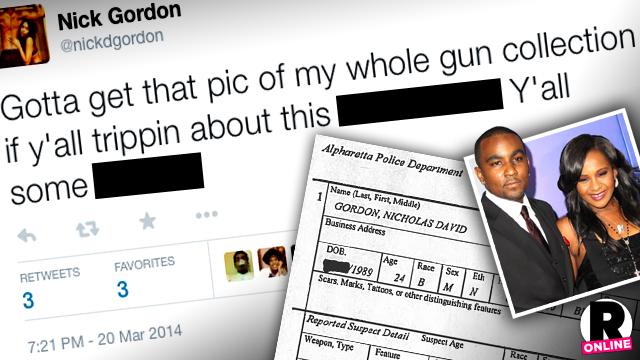 As Bobbi Kristina Brown continues to undergo treatment at an Atlanta hospital, her family has barred self-described "husband" Nick Gordon from her bedside. Now, RadarOnline.com can reveal more details of why the family believes he's bad news: According to a police report obtained by RadarOnline.com, Brown's aunt, Pat Houston, previously claimed he threatened violence against her unless she gave the couple more money from Whitney Houston's estate!
Article continues below advertisement
Marion "Pat" Houston, who controls the multi-million dollar trust fund left behind for Brown, told police that Gordon had alienated Brown from the rest of her family in March 2014.
READ THE EXPLOSIVE POLICE REPORT
"Marion said that Krissy (as she is known by her family) is romantically involved with an individual by the name of Nicholas Gordon," the incident report said. "Mr. Gordon and Ms. Brown are not pleased with Marion controlling Whitney Houston's estate. Marion informed me that Mr. Gordon wants Ms. Brown's monthly allowance increased."
Houston told the officer that she refused to increase Brown's allowance until the singer's heir reaches her 35th birthday, as spelled out in the trust document.
"Marion stated that Mr. Gordon has turned Krissy against the family and in the process has said threatening statements to Marion and other family members," the report said.
Houston claimed she feared Gordon, because of threatening messages and photos posted on his Twitter account, but the police officer concluded the posts were not terroristic threats. Still, she was able to get a restraining order against him, as RadarOnline.com reported.
"Since when is posting guns on Twitter threatening anyone?" Gordon tweeted a day after the restraining order was issued.
"Gotta get that pic of my whole gun collection if y'all trippin about this s**t," he tweeted. "Damn. Y'all some b**ches."
As RadarOnline.com reported, Gordon was forcibly removed from the hospital during an attempt to visit Brown. She's been hospitalized since she was discovered non responsive in her bathtub on January 31.