Exclusive
Hospital Brawl! Bobbi Kristina's Husband Nick Gordon Tussles With Cops, Houston Family At Her Bedside — Eyewitness Tells All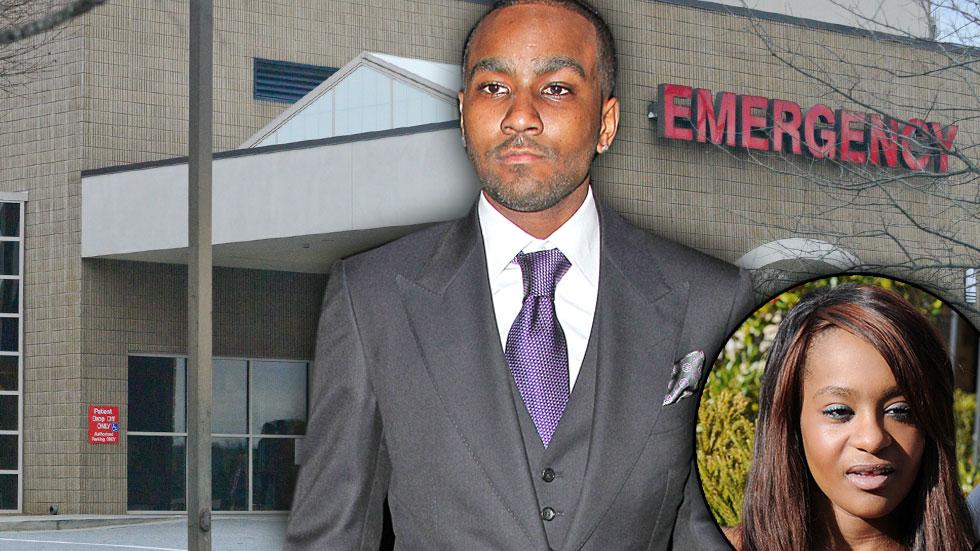 Article continues below advertisement
Around 8 p.m. on Saturday, January 31, the first day Brown, 21, was admitted, an eyewitness on the hospital floor told RadarOnline.com, "You could hear scuffling," around her room. "About maybe two to three minutes later, they came back with this person and they had their hands on him like holding onto him and you could see that everybody was distressed."
According to the eyewitness, it was Brown's husband, Gordon, 25.
Hospital security and uniformed police officers swarmed the scene and "physically escorted him from the floor," the eyewitness said -- an account in dispute by those inside the Houston family.
Said the source: "The whole incident was very upsetting."
"It seemed like he had snuck up the back stairs, near the break room," the insider said. And from that point forward, bodyguards dressed in dark suits patrolled the floor, according to the source.
Article continues below advertisement
"There were three men in suits that were on the floor the whole time," the source said. "Security was so tight."
Brown's arrival on the floor Saturday morning was no less frantic. According to the source, when she arrived in the early afternoon on a stretcher, "There were people running all around."
"The nurses station where she was, they were all running around. It seemed really serious. You could tell something was going on. It was like a fire drill. They went around closing patients doors and everything. Not very long before that somebody had died on the floor. So there was a whole lot going on that day."
"There was a lot of hustle and bustle," the source said, "and from that time forward, there was hustle and bustle."
As RadarOnline.com reported, Gordon was spotted in the parking lot of the hospital on Saturday night, but the Houston family has excluded him in light of Pat Houston's restraining order against him. Meanwhile, Gordon's family has spoken out to RadarOnline.com to insist he's done nothing wrong.
For more from inside Brown's hospital room, stay tuned to RadarOnline.com.