Bobbi Kristina's Family To Take Her Off Life Support On Date Of Whitney's Death & More: 4 New Developments In Tragedy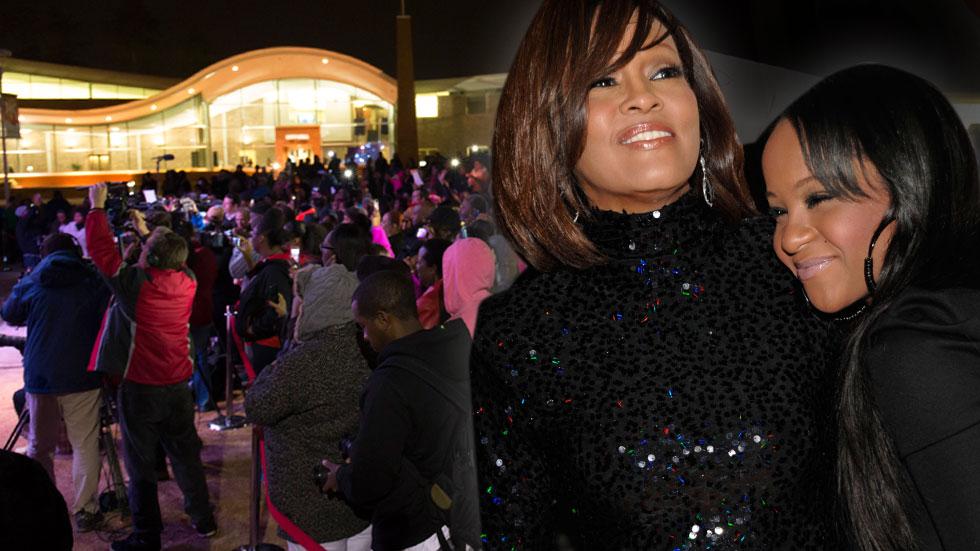 Hundreds gathered to pray for Bobbi Kristina Brown Monday, while her family decided to remove her life support so she could die Feb. 11, the same date as her mother.
Life Support
The idea to remove the life support Wednesday so Bobbi Kristina could die on the anniversary of her mother's death was initially tossed out by her grandmother, Cissy Houston, insiders told the NY Post. Cissy and members of the Brown family agreed that they will pull the plug at midnight, the insider told the paper, with the idea being that the mother and daughter with be eternally connected. The painstaking decision is virtually the only thing the Houston and Brown sides "can agree on," the insider said.
Article continues below advertisement
Emotional Night
Hundreds of people were on hand in at Riverdale, Ga.'s Town Center amphitheater Monday to hold vigil for Bobbi Kristina at "Shining a Light for Healing for Bobbi Kristina Brown." The event consisted of gospel hymns, songs, speeches, prayers and scripture readings while those in attendance pointed candles, flashlights and cell phone lights toward the sky for the ailing 21-year-old. "They bleed and hurt like us," Riverdale Mayor Evelyn Wynn-Dixon told the crowd of the celebrity family. He continued, "Sometime people ask you, or they say, 'I know how you feel.' Sometime they don't. Sometime they don't know what it's like if your child is on that ventilator. 'What do I do? If I take it off and she could have lived, or do I let her stay on it and suffer?' That's a hard question for any parent." Speaker Gwen Battle told the crowd, "It ain't over til God says it's over." The event was put together by Corey Punzi, a marketer with the city who said that it was a way of supporting Brown's family, as her father Bobby Brown was the first to perform at the venue.
Watch the video on RadarOnline.com
Unreal Grief
Just three years after laying her daughter to rest, Cissy Houston is "really struggling with all of this," family friend Smokey Robinson told ET Saturday. "She's out of it; It's such a tragic situation." Cissy two years ago tried to smooth over hard feelings (over a book she wrote about Houston) with her granddaughter in an open letter in which she admitted she didn't want her to marry Nick Gordon due to her young age."Krissi, all I want for you is your good health and your happiness," she wrote.
Helping Hands
A number of prominent figures from the entertainment community -- such as Tyler Perry, Jermaine Dupri and Bow Wow -- have been present at Emory University Hospital in Bobbi Kristina's room, helping to keep the peace between the dueling sides, sources told the NY Post. "They're respected, and both sides know they don't want to embarrass themselves in front of them," the source said, noting that Perry will make the funeral arrangements. While "you wouldn't think of Perry as being someone who'd be a peacemaker ... he's someone both sides really respect," the source said.