'I Hope That God Opens Her Eyes': Kevin Costner Prays For Bobbi Kristina & More: 3 New Developments In Tragedy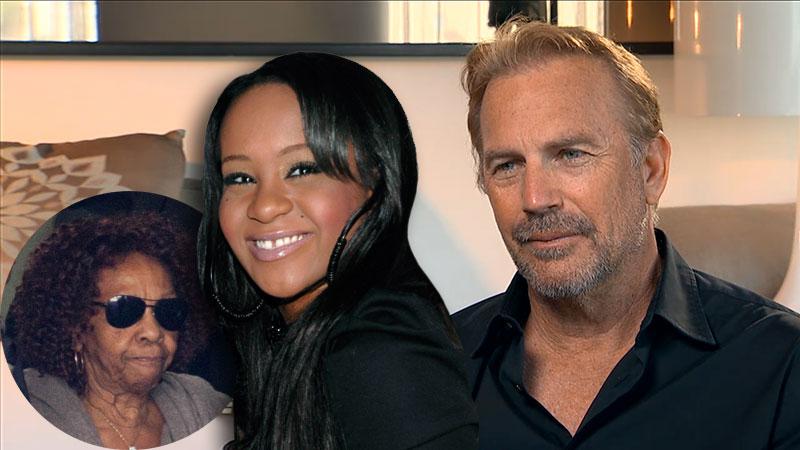 Bobbi Kristina Brown's family continued to pray for the 21-year-old, with her late mother's one-time co-star Kevin Costner saying he hopes "she gets a second chance."
Fielding Dreams
Costner, who famously played opposite Whitney Houston in 1992's The Bodyguard a year before Bobbi Kristina was born, told Nightline's Juju Chang he's praying for the ailing 21-year-old. "I hope that God opens her eyes and lets her breathe and lets her brain work, and she gets a second chance," Costner said, making reference to the late pop singer. "My thoughts are probably similar to everyone, which is, obviously, the similarities, what's going on, the worry that this might have happened again; where is this little girl going to go when you lose your mother?" Costner didn't mince words describing the reality of the situation. "The facts are the facts right now, that she's sitting here, fighting for her life, surrounded by the people who love her the most," the Black Or White star said. "We understand the pressure they're under and I think nobody wants more than her family -- and if she could speak for herself -- to have a second chance at this most precious life that we are all given."
Article continues below advertisement
Watch the video on RadarOnline.com
World News Videos | ABC World News
Touching Tribute
Bobbi Kristina's cousin Jerod Brown took to Instagram Wednesday paying tribute to the late "I Will Always Love You" singer on the third anniversary of her death. He posted an image of himself with both Houston and Bobbi Kristina, writing, "You will never know the last moment you will experience, the last conversation you will have, the last photo you will take. Well this was the last photo we took with you auntie and if I would have known that I would've taken a few more lol." He trumpeted Houston's devotion for her family, adding, "It was an honor to have known you, to be loved by you, and to be inspired by you. I WILL ALWAYS LOVE YOU ... #WakeUpBK."
http://instagram.com/p/y9cAJEoYzT/?modal=true&utm_source=partner&utm_medium=embed&utm_campaign=photo
Grand Visit
On the third anniversary of her daughter's death, Cissy Houston visited her granddaughter at Emory University Hospital Wednesday. The 81-year-old, who had some rough patches with Bobbi Kristina in recent years over her relationship with Nick Gordon, smiled as she left the hospital, amid comments from Bobby Brown's sister Leolah Brown that Bobbi Kristina was improving.