Houston Family Feud Deepens! Cissy Snubbed Tribute To Daughter Whitney Because Of Bobbi Kristina!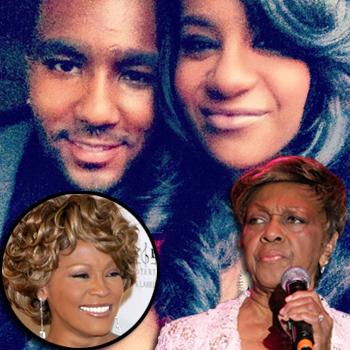 Houston we have a problem!
The mother of the late Whitney Houston was so enraged with Bobbi Kristina Brown's plans to wed "adopted brother" Nick Gordon she snubbed a star-studded tribute for the I Will Always Love You singer, the National Enquirer claims.
Cissy Houston, 79, refused to attend the Grammys' Final salute for Whitney on October 11 at L.A.'s Nokia Theatre because Bobbi Kristina and Nick were scheduled to attend.
Article continues below advertisement
"Cissy really wanted to be there for Whitney," revealed a source close to the family.
"But she's just too angry with Bobbi Kristina right now. Cissy and her oldest son Gary couldn't stomach sitting next to Bobbi Kristina and Nick."
The rumor mill has been in overdrive with reports claiming that Bobbi Kristina and Nick are engaged.
And in a promo clip from Lifetime's new reality show The Houstons: On Our Own, Bobbi Kristina is seen announcing to family members: "We're engaged!"
Despite that, her rep has denied the claims, adding: "You have to watch the show!"
As RadarOnline.com previously reported, the couple sprung into action to help a heart attack victim near Atlanta last Saturday.
The two were standing at an ATM in a mall parking lot in suburban Roswell, Georgia when they were flagged down by a distraught driver whose family member appeared to be having a heart attack.
The pair raced to the car, and Nick pulled the gravely ill man out of the vehicle, placing him on the ground.
Article continues below advertisement
Bobbi Kristina elevated his legs in a move to help blood flow to his brain. The young couple, clearly distressed, stayed with the man and his family until paramedics arrived.
For the full story on the ever deepening Houston family feud, pick up the new issue of the National Enquirer -- on sale Thursday.
RELATED STORIES:
Bobbi Kristina Brown Talking Marriage With 'Adopted Brother'
I'm Very Proud Of You! Bobbi Kristina Writes Loving Letter To Mom Whitney Houston