Kevin Costner Opens Up About Whitney Houston's Drug Addiction, Was Asked 'To Write Letters' To Help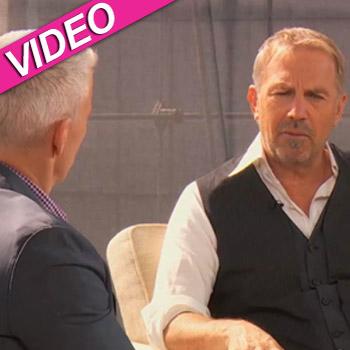 While they hadn't been close since steaming up the big screen in The Bodyguard in 1992, Kevin Costner still loyally acted as pallbearer at his former co-star Whitney Houston's funeral in February, and now the actor is opening up about what he knew -- and didn't know – about her battle with drugs and how he'd tried to help.
While on Anderson Cooper's talk show to chat about his upcoming miniseries, Hatfields & McCoys, Costner revealed how he didn't know that the diva was battling a drug addiction while they were filming the modern classic love story.
Article continues below advertisement
"A couple of times there were some people that really loved Whitney and a couple times in the last seven or eight years they asked me if I would I write her a letter," he told Cooper.
"It's so odd. I have this level of celebrity and fame -- international or national, whatever you want to refer to it -- but it's a pretty surreal thing to think sometimes that you're in the middle of another famous person's life," he explained.
"You think to yourself, 'How the hell did I get famous?' What is this some weird club that we're in?'"
"So when someone said, 'Would you write someone a letter to someone who you know is having trouble?' I did, there were two occasions."
The gorgeous movie star couple will always be joined in fans' eyes, but in real life the Dances With Wolves star said: "I elected to let Whitney have her life after The Bodyguard, she would always be close to me, she would always be someone I appreciated.
Article continues below advertisement
"I saw pretty much what everyone else saw. But when someone asked me to write a letter I did, I don't know if those letters were ever read."
As RadarOnline.com previously reported, a full autopsy report released earlier this month revealed that 48-year-old Houston "showed cocaine, benzoylecgonice, cocaethylene, marijuana, Xanax, Flexiril, and Benadryl...Death was due to drowning due to effects of atherosclerotic heart disease and cocaine use. No foul play is suspected. The mode of death is accident."
The full interview airs on Anderson in May.