Exclusive
Just Desserts? Teresa Giudice Feasts On Beans & Franks During First Day In Prison — Meager Menu Revealed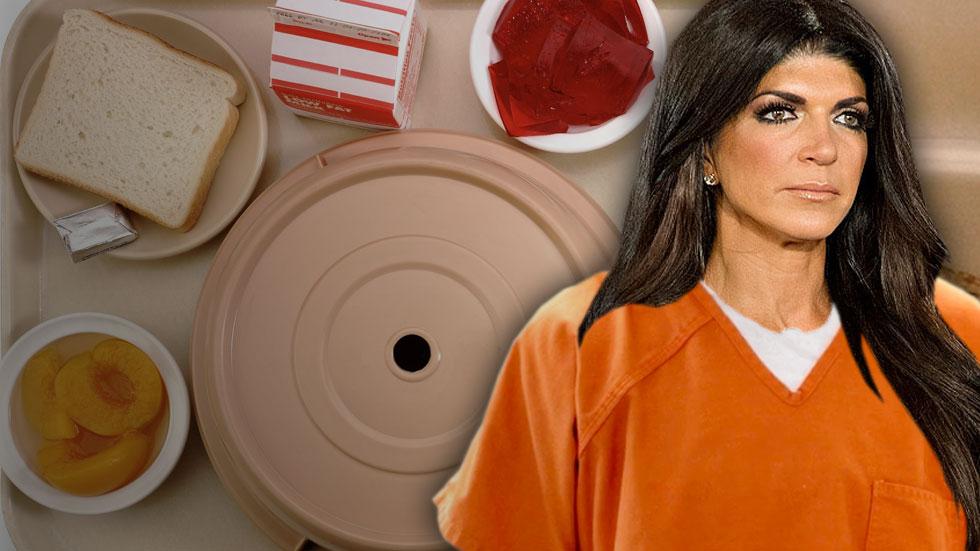 Real Housewives of New Jersey star Teresa Giudice vowed to avoid carbohydrates before beginning her prison sentence, but RadarOnline.com has learned that will be nearly impossible! The reality star's menu of meals for her first day is loaded with carbs, preservatives, and lots of ingredients she surely never put in her many cookbooks.
Early Monday morning, Giudice began serving her fifteen-month prison sentence for fraud and tax evasion at a correctional facility in Danbury, Connecticut.
Article continues below advertisement
There, breakfast for the mother of four consisted of a fresh orange, hot oatmeal, three slices of bread, a margarine pat, two packages of jelly and two cups of skim milk.
MORE: Locked Up! Teresa Giudice Enters Prison For 15-Month Sentence
For lunch, Giudice will have beans and franks, potatoes, two mustard packets, three slices of bread, two margarine pats, a fresh apple and a beverage.
Giudice will feast on a fish filet, tomato sauce, white rice, lima beans, two tartar sauce packets, three slices of bread, two margarine packets, a fresh apple, and a beverage for dinner.
Giudice's first days in prison will likely include a thorough strip search and a psychological assessment. "She may be tested by other inmates because of her notoriety, more in the way of snide remarks than threats," says a source.
In the weeks leading up to her prison sentence, Giudice was spotted spending time with her four daughters and looking for last-minute publicity opportunities to pull in some quick cash.