As Days Of Freedom Dwindle, Teresa Giudice Takes Her Family To See Bravo Buddy Nene Leakes In 'Cinderella' On Broadway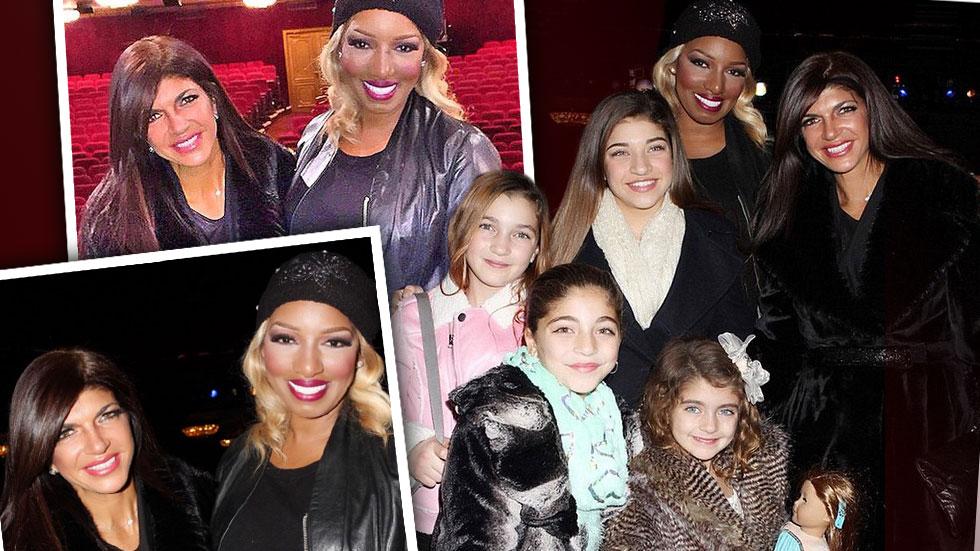 With just 25 days left as a free woman, Teresa Giudice is enjoying life as best she can, and sure seemed to be having fun on Wednesday when she took her four daughters to watch her pal NeNe Leakes take the stage in the Broadway production of Cinderella Thursday.
NeNe, 46, posted images of herself with Teresa, 42, and New Jersey native's four children -- Gia, 13, Gabriella, 10, Milania, 8, and Audriana, 5 -- at the New York City production.
Article continues below advertisement
The outspoken star of the Real Housewives of Atlanta wrote on Instagram, "My girl Teresa Giudice came to Cinderella last nite with her beautiful daughters to support me! I love the girls! They were so fabulous!
"And I loved seeing Teresa. She looks so good and she's a super strong woman!"
As RadarOnline.com previously reported, NeNe, appearing on Watch What Happens Live last month, vowed to visit Teresa while she's in custody.
"I really would … I feel bad for her," NeNe told host Andy Cohen, adding they had "a very real conversation" in the wake of Teresa's Oct. 2 sentencing.
NeNe, who's playing the wicked stepmother in the Broadway production, said she's given the embattled Jersey native "real true advice" when they speak.
A source this week told E! that "Nene and Teresa are very close" as of late, as "Nene's proven to be a very loyal friend.
"They talk on the phone constantly and Teresa considers her a confidante."
Teresa enters custody at a federal prison in Danbury, Conn. for her fraud conviction Jan. 5.
NeNe can be seen on the Real Housewives of Atlanta, which airs Sundays at 8/7c on Bravo.