Dershowitz On The Warpath, Piers Advises Caution & More -- 3 New Developments In Prince Andrew Royal Sex Scandal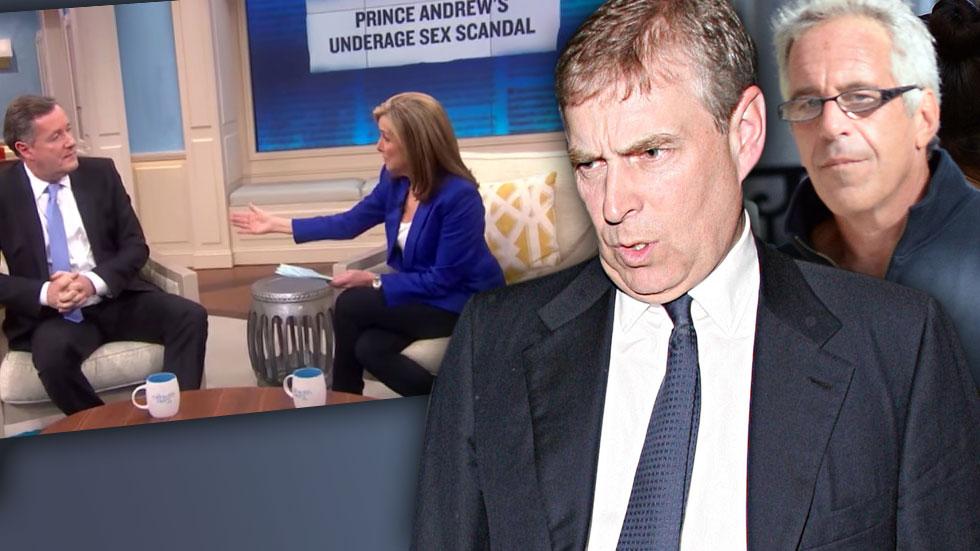 One of the U.K.'s most prominent media personalities cautioned the public to wait-and-see before passing judgment on the Prince Andrew royal sex scandal, one of the latest details to emerge Friday as the Duke of York remains on the hot seat for his link to wealthy child molester Jeffrey Epstein.
Piers Morgan: Wait-And-See
Famed British commentator Piers Morgan cautioned the public to give Prince Andrew "the benefit" of the doubt in his appearance on Thursday's edition of The Meredith Vieira Show. The ex-CNN host said that "if at any stage, any real hard evidence emerges that he did have sex with an underage girl, it would be a monumental scandal," and that he'd be the first in line to cry the prince be "brought to justice." The one-time tabloid editor added that the palace has traditionally been reclusive to the media, and put in "a very difficult position" in the wake of the prince's issues. "He is not directly involved, his name his just been put in there and they want to see how it plays out," Morgan said, adding that it's "a long way away" from determining the prince is guilty of any wrongdoing in his association with Epstein.
Article continues below advertisement
Watch the video on RadarOnline.com
'I Will Go And Drain My Bank Account'
Famed attorney Alan Dershowitz, also speaking with Vieira, continued shouting his innocence from the rooftops, making clear he's infuriated to have been named along with Prince Andrew in the civil lawsuit. Dershowitz, 76, vowed he'd "go and drain his bank account" to prove that the accusing party, Virginia Roberts, "has lied" about the events that took place. Dershowitz -- who's sued, and been sued, by her attorneys since the scandal broke -- vowed he'd "totally demolish the reputations of these sleazy lawyers and these unprofessional people who have engaged in unethical conduct." He added that Roberts and her legal team have done a serious disservice to actual rape victims due to his upcoming plans to deconstruct her entire story and prove it as false. "Rape victims will now be believed less when I prove that this woman made up this story out of whole cloth ... they picked on the wrong innocent victim this time." Also speaking with THR Thursday, the passionate legal icon said of Roberts: "I'm going to demolish this woman's credibility and prove she's a serial liar."
Watch the video on RadarOnline.com
Social Media Sex Offender?
Since the scandal broke, no new entries have been posted to Epstein's purported Twitter account, an account that has more than 600 tweets posted promoting the Jeffrey Epstein VI Foundation, a non-profit the billionaire set up in 2000 to support "innovation in science, education and international peace accords," and "to sponsor cutting edge science around the world." At least one tweeter, under the handle @SarahKMoser, has launched jabs at the convicted sex offender, directing messages in which she called him a "sex slave patron" and "an international human trafficker and pedophile." Interestingly, a Youtube account videos linked to Epstein has favorite marks on two videos: cartoons featuring Dora the Explorer and Tinkerbell.