Rose-Colored Glasses? Kourtney Kardashian Hopeful Rehabbed Scott Disick Has Changed His Ways On 'Hamptons' Finale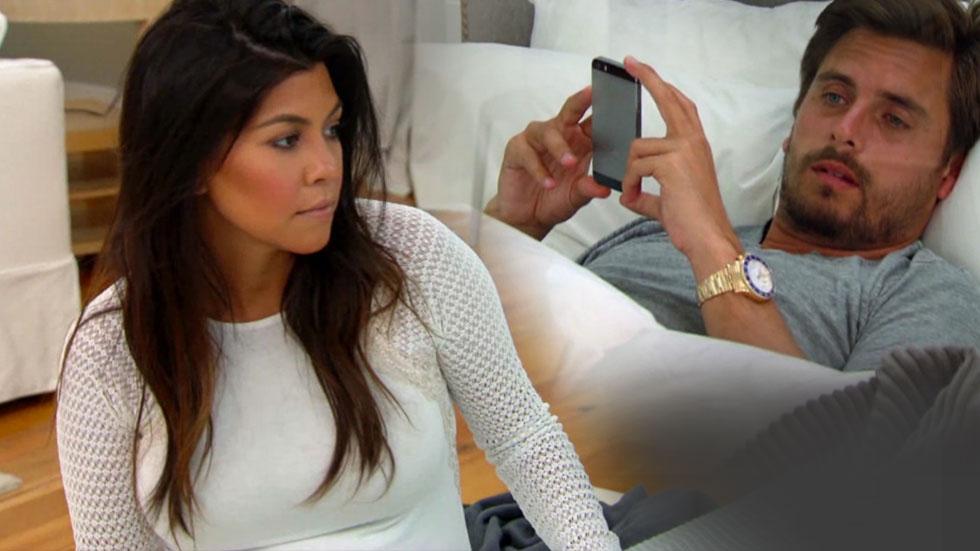 Article continues below advertisement
"The Lord" boasted, "I'm really proud of myself for making some of these big changes in my life."
Watch the video on RadarOnline.com
And then-pregnant Kourtney, 35, (who gave birth to their third child, son Reign, in December) opined in a confessional segment, "I think sometimes for growth to happen, you have to go through some really hard times to get to a more positive place.
"I'm excited for what the future could bring."
But earlier in the episode, Kourtney admitted to her sister Kim Kardashian she had removed temptation from Disick in the Hamptons: "We took out all the hard alcohol, all of the wine and beer."
Then she told the cameras, "Scott's staying on a clean path is one of the most important things for me. I really want Scott to find his happiness again."
And as RadarOnline.com previously previewed, Kourtney lashed out at her sisters Khloe and Kim for drinking heavily in front of Disick and leaving bottles of alcohol all over their Hamptons house.
Article continues below advertisement
Khloe got so drunk that Disick marveled, "I can't remember a specific time Khloe was this tipsy," and helped her into bed.
The next morning, Kourtney saw open bottles of alcohol all over and asked Disick what had happened.
"I was the one who was trying to chaperone," Disick said.
Kourtney complained to Khloe and Kim that the bottles had been left out -- but they just giggled.
"You don't get it. It's about the repercussions of leaving it out," Kourtney told her sisters. "He's trying so hard to be sober and he has to take care of YOU guys?"
Khloe got angry, pointing out to Kourtney, "You have some nerve! How many times have I had to take care of your sloppy man?
"It was one mistake this entire summer … I'm going back home 'cause you're insane! You're so unappreciative. I'm on the brink of a breakdown."
After Khloe stormed off, Kim said she understood Kourtney's point and agreed that they had to pay better attention to Disick's new sober lifestyle.
Article continues below advertisement
Later, Kourtney admitted to Khloe, "I feel like I overreacted," but explained, "I have been trying to do whatever I can to make sure Scott stays on a good path."
Then Khloe sighed, "I don't want him to fall off and do something bad. That's not my intention. It was really innocent and accidental that we left out some bottles, but I can understand why you would get upset."
Kourtney told the cameras, "Scott is ultimately responsible for his own actions."
Later, Khloe accompanied Disick on one of his personal appearances and noted that someone should accompany him on the gigs to keep him in check.
After a young woman offered Disick champagne, Khloe warned, "He doesn't drink."
Disick said the appearances were easier and more fun now that he was sober.
Viewers also saw Khloe and Disick doing a cameo on the show Royal Pains; she hoped he might parlay it into more acting work.
Article continues below advertisement
The Hamptons finale also showed Jonathan Cheban asking Khloe about her relationship with rapper French Montana.
Khloe responded, "When I'm with him, I'm so into it. But as soon as he leaves, I'm like ..."
After pausing, Khloe said, "It's fun. But I will say I have to be patient and see how I feel."
Khloe also suffered uncomfortable moments after her friend Malika Haqq got drunk and kissed her inappropriately, as RadarOnline.com previously previewed.
Later, Haqq said, "So what I kissed you? It's not that big a deal."
Then Khloe pointed out, referring to Haqq's fling with Rob Kardashian, which was explored in 2010 on Keeping Up with the Kardashians, "You can't f*ck my brother and then me. Awkward!"
The BFFs decided to overlook the kissing incident and move on.