Under The Influence — Kourtney Lashes Out At Her Sisters For Drinking Around Scott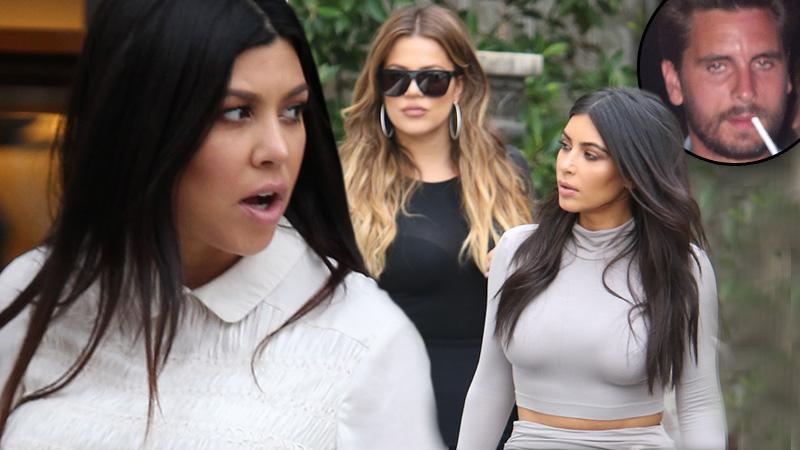 Scott Disick's troubles with drugs and alcohol are wreaking havoc on the Kardashian sisters' tight bond — and the tension has come to an explosive head.
"You guys can sit here and laugh about it, but it's not funny!" Kourtney yells at Kim and Khloe in a preview for Sunday night's finale of Kourtney & Khloe Take The Hamptons.
"This isn't a joke. This is my life, and Kim and Khloe laughing in my face about leaving alcohol out…I just can't even believe they'd be so disrespectful," the 35-year-old reality star explains in a confessional.
Article continues below advertisement
"You're going to complain about one time I decided to drink?" an incredulous Khloe, 30, asks Kourtney in a nasty confrontation.
"It's not about making a mess," she responds. "It's about the repercussions of leaving it out."
"Why? Scott's just going to take it?" wonders Kim, 34.
When Kourtney admits she doesn't know what he'll do, Khloe loses it.
"Well, then maybe he should go back and get some more help!" she snipes.
"That's the worst part of it," says Kourtney. "He's trying so hard to be sober and he has to take care of you guys?"
"You have some nerve! How many times have I had to take care of your sloppy man!" argues Khloe.
Kourtney tells her sister she has no respect for her family, but Khloe points out that she has done nothing but try to help the couple cope.
"Do you think I want to be in this ridiculous place with you guys?" she asks.
Article continues below advertisement
As RadarOnline.com reported, Kourtney has good reason to worry about her 31-year-old baby daddy.
A friend of the reality couple tells RadarOnline.com that they are fighting over whether or not to ring in the New Year in typical Disick tradition – by boozing it up!
"Scott has told Kourtney that his New Year's Resolution is to stop drinking, but he is trying to convince her that New Year's Eve should be his one last exception to get wasted," says the pal.