Still Sober? Kim Richards Rushed To Emergency Room 'Doubled Over In Pain,' Concerned Sister Kyle Says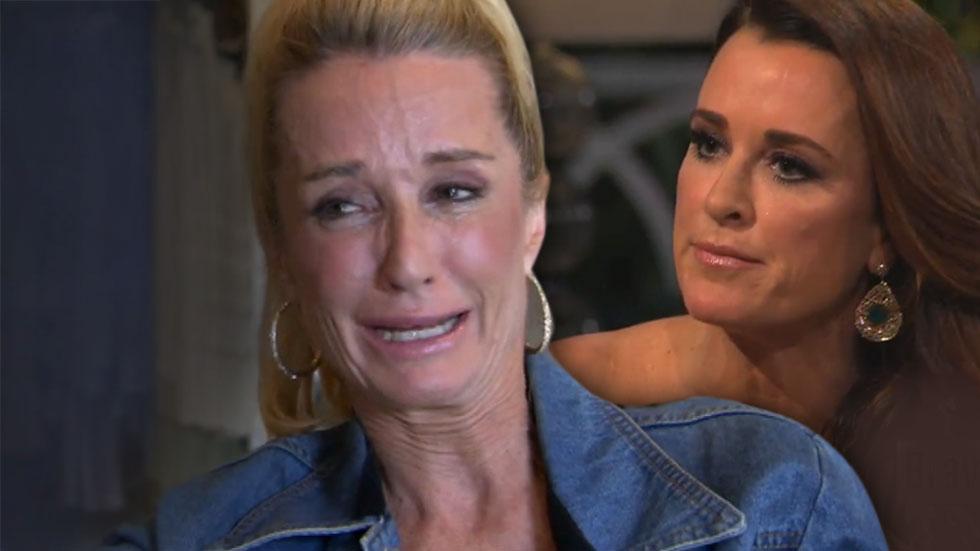 Article continues below advertisement
During the party scenes that aired on last week's episode, Kim admitted to sister Kyle Richards that she had taken "something" for pain, which bothered Kyle so much that the party ended with a fight between the sisters.
And as Tuesday's episode picked up, their co-star Lisa Rinna -- who had previously asked Kim if she was drinking, which Kim denied -- sighed, "When sisters collide, I don't know what the f*ck to do."
During Rinna and Kyle's ride home from the party, Kyle, 46, revealed her concern about how Kim was dealing with the illness of her ex-husband, Monty Brinson.
As RadarOnline.com told you first, Brinson has been living with Kim as he battles cancer that began in his lungs and then spread to his brain and spine.
Rinna warned Kyle, "I know your sister is a sober person, but she did not seem sober to me."
Article continues below advertisement
The former Days of Our Lives star, who is married to L.A. Law star Harry Hamlin, then dropped a bomb of her own in confessional.
"I know what Kyle is going through because I saw Harry watch both of his brothers drop dead of alcoholism within six months of each other," Rinna said. "Unless anyone wants help, you can't help them."
Later, a frantic Kyle revealed to husband Mauricio Umansky, "Kim is in the hospital," but she didn't know why, only that, "She was in a lot of pain and Monty took her to Cedars-Sinai."
Although she hadn't been able to speak with Kim, Kyle knew that her doctors "said that she could have an ulcer.
"But I don't know if they saw an ulcer or if they're guessing from her pain or her reaction."
Kyle told the cameras that she's seen her sister "go through a lot of difficult times and be under a lot of pressure.
"I'm worried, I'm frustrated. I don't know what is going on with my sister. She was not herself and I know she was in a lot of pain, she said, and she took something." (The show flashed back to last week's episode, in which Kim told Kyle she was in pain and before she left the house, "Monty gave me something for the pain that my doctor gave me and I took it.")
Article continues below advertisement
While Kyle admitted sibling relationships are often complicated, she added, "I think with Kim and me, there's a whole other dynamic because of her sobriety and my not knowing how to handle it always."
Kyle told her husband she thought helping cancer-stricken Brinson was "too much" for Kim.
In a later scene, pal Yolanda Foster visited Kyle and commented, "You have so many dogs. And they're all so friendly."
The moment was unintentionally funny because as RadarOnline.com readers know, the Richards sisters have been locked in a bitter feud after Kim's pit bull viciously attacked Kyle's daughter, Alexia Umansky.
But on Tuesday's show, after Foster pet Kyle's tame dogs, she learned what was going on with Kim.
"She was doubled over in pain and ended up in the emergency room," Kyle said.
Yolanda had sympathy for Kim, noting, "With her daughter getting married, her other daughter moving out, nursing Monty every day through what he's going through, it is so hard. It's a lot of pressure for anybody."
Article continues below advertisement
At the end of the episode, Rinna threw a jewelry sale party and Kyle was again peppered with questions about Kim's hospitalization.
Kyle told the guests, who included Charlie Sheen's ex-wife Denise Richards and stylist Jennifer Rade, that she still didn't know what was wrong.
"Right now they are doing all these tests," she said. "I went to the hospital and waited an hour and a half today and she never came back to the room.
"Her kids and I were all waiting and they were sending her down for more and more and more" tests.
Kyle said to the cameras, "I feel like I'm in a tough situation and everybody wants to know what happened with your sister. Is everything okay? I don't have that answer right now."
On Tuesday's episode, fans also saw Foster talking on the phone to her daughter Bella, who is now attending college in New York.
Bella, who was arrested for DUI last year, showed her Hollywood pedigree when she informed her mother she was going to an NYC art show with "Tallulah and Demi," as in Demi Moore and her daughter Tallulah Willis.
Foster thought it sounded like fun, but the protective mom, who was bitterly disappointed about her daughter getting into DUI trouble, reminded Bella of her curfew.