Fragile Kim Richards Shops For Daughter Brooke's Wedding Dress While Ex-Husband Battles Cancer: 'He's Still My Best Friend'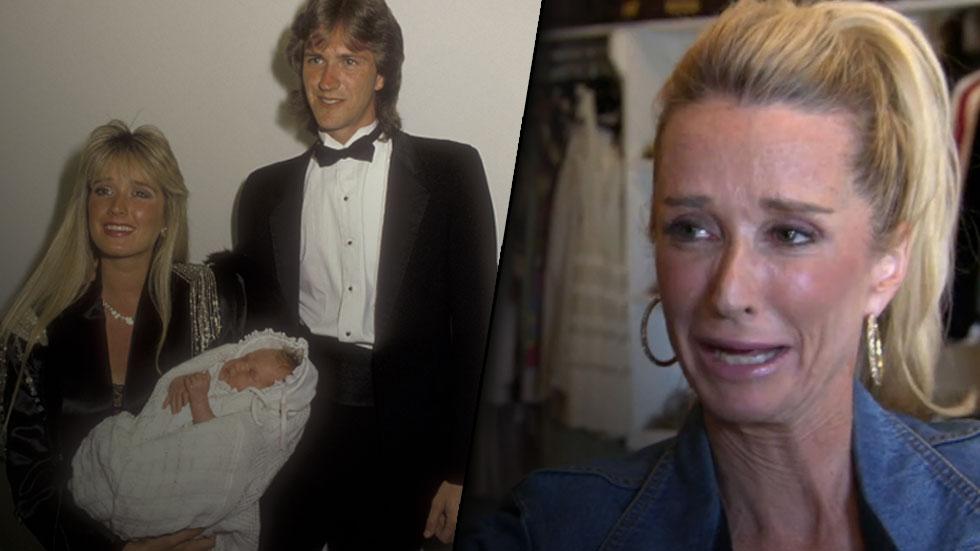 It was an emotional time for Kim Richards on The Real Housewives of Beverly Hills on Tuesday night, as she helped her daughter Brooke shop for a wedding dress while dealing with her ex-husband Monty Brinson's battle with cancer.
As RadarOnline.com told you first, Kim was living with Brinson during his sad last days, a relationship which would be featured prominently on the show this season.
Kim and supermarket heir Brinson were married in 1985, had one child together, Brooke, before they divorced just one year after being married.
Article continues below advertisement
"Monty was diagnosed with lung cancer a few months back," Kim told the cameras. "Even though Monty and I didn't actually get to stay married, he's still my best friend and he's currently living with me during the chemo and radiation."
Kim told her sister Kyle Richards that the cancer had spread to Brinson's brain and spine – and Brooke knew about it.
"Since the day Monty found out he was sick, we've just done everything we can to make sure Monty's strong enough for Brooke's wedding," Kim said in confessional.
Kyle told the cameras about her sister, "This is a lot for her to take on. It's going to be a challenging time for her."
On a humorous note, however, viewers also saw Kim and Kyle's other sister, Kathy Hilton, join them at the bridal salon only to diss the wedding dress Brooke tried on for her nuptials with Thayer Wiederhorn.
It "looks like a cocktail waitress," Paris Hilton's mother sniffed.
Meanwhile, the episode also dealt with another cast member with a cancer crisis.
Article continues below advertisement
Yolanda Foster was on her way to Holland to take care of her mother, Ans, who had uterine cancer after surviving breast cancer 20 years ago.
Foster cried when talking about how far away she lives from her mom and how she was "frustrated that I can't be close to her right now.
"It's hard."
Fans also saw recently-added cast member Lisa Rinna meet another newbie, soap star Eileen Davidson, for lunch.
Watch the video on RadarOnline.com
Earlier, Rinna had celebrated her 51st birthday at Lisa Vanderpump's restaurant Pump with Lisa and Kyle and their husbands. Soon, Rinna's hubby Harry Hamlin also joined them.
When the ladies discussed their marriages, Kyle revealed she was engaged to someone else — a CBS newscaster 24 years older than her — when she met Mauricio Umansky (hiding her engagement ring from him). Ultimately, she married the real estate maven.
Article continues below advertisement
Rinna revealed her secret to a happy marriage was lingerie – and porn!
"Nobody I know watches porn," Rinna said. "They're all grossed out by it, 'Oh, my God, how could you watch porn?' I go, well, how could you not?"