Exclusive
Off The Wagon? 'RHOBH' Stars Question Kim Richards' Sobriety During Cast Trip To Amsterdam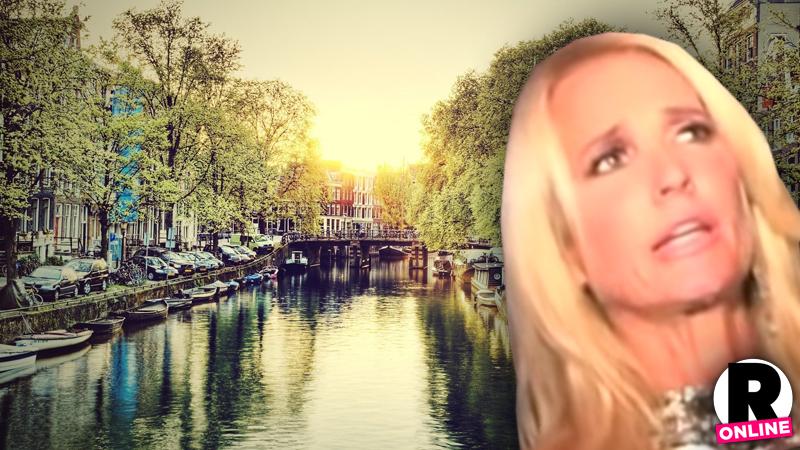 Has Kim Richards fallen off the wagon? It's the troubling question being asked after Paris Hilton's aunt appeared to be under the influence during The Real Housewives of Beverly Hills cast trip to Amsterdam.
"Things got extremely tense very quickly in Amsterdam because the ladies, led by newcomer Eileen Davidson, believed that Kim was under the influence of something," a show insider tells RadarOnline.com exclusively. "No one saw Kim drink or take any pills, but she did slightly slur her words during one of the initial outings on the trip."
Article continues below advertisement
"Eileen was trying to stir things up behind the scenes, along with Yolanda Foster, questioning Kim's sobriety."
However, sources close to Richards emphatically deny she had suffered a setback in her recovery and blamed producers for trying to create drama.
"Kim was extremely jet lagged and tired. It was a very long plane flight, and hadn't been sleeping well. Look, Kim can be a bit of an airhead, so throw that in with no sleep, and she could seem out of sorts," a Richards family pal tells Radar. "Absolutely committed to her sobriety, Kim is disgusted anyone would question it. This has been a storyline in the show for a long time, and Kim is disgusted anyone, including the show's producers would exploit it for ratings."
Relations between Richards and Davidson have been tense since the soap queen joined the show.
Newcomer Davidson "didn't make any effort to try to get to know Kim at all," an insider previously told Radar. "Eileen can come off as very snobbish and aloof."
"Whenever Kim and Eileen film together, there is always a lot of eye rolling on the part of the soap star," the source reveals. "Eileen complains that Kim is a total airhead and doesn't understand why she is even on the show. In Eileen's opinion, Kim is a total bore, and just rides on her sister, Kyle's coattails."
The ladies are still filming for the upcoming season, and Kim isn't "going to be a shrinking violet when it comes to these allegations. Plan on Kim battling it out with Eileen and Yolanda on camera, which of course is exactly what producers want," the source added.