Exclusive
'RHOBH' Star Kim Richards' Secret Heartache: Her Beloved Ex-Husband Is Dying Of Cancer — Self-Medicating To Cope?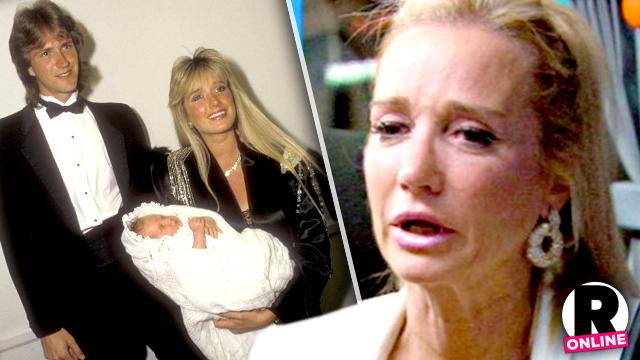 As rumors continue to circulate that Real Housewives of Beverly Hills star, Kim Richards, has fallen off the wagon, RadarOnline.com has exclusively uncovered the real reason why friends and family think she may have given in to her demons once more: According to an insider, Kim's ex-husband Monty Brinson, the father to her adult daughter, Brooke, 28, is in the final stages of cancer. Living with him in his final days, is Kim self-medicating to cope?
Article continues below advertisement
Brinson and Richards were married in 1985, had one child together, Brooke, and divorced just one year after being married.
"But Monty and Kim have always remained close, years after their divorce," an insider told RadarOnline.com. "They had joint custody of their daughter, and co-parented very, very well together."
The source continued, "When Monty was diagnosed with cancer, it was a kick in the stomach to Kim. He has always been the constant in her life. They moved in together so Kim could take care of Monty during his illness. Sadly, Monty has been told the cancer is terminal. His voice is very raspy, and it's extremely hard for him to talk."
"Kim is taking all of this very, very hard, and she has indeed been self-medicating to deal with the stress of it," the source said. "Her medication has been prescribed by a doctor that is fully aware of Kim's addiction issues. This is being very strictly monitored."
The sad last days of Kim's super market heir ex will play a big part in the upcoming season of RHOBH, according to the source.
In fact, RadarOnline.com has exclusively learned, Kim's daughter Brooke's marriage, "was held this past summer so her dad could walk her down the aisle. Cameras were on hand for the very emotional day, and this will be Kim's central storyline this year," according to the source.
Article continues below advertisement
But it hasn't all been so heartwarming. Questions about Kim's sobriety have swirled ever since the cast trip to Amsterdam, as RadarOnline.com reported.
"Things got extremely tense very quickly in Amsterdam because the ladies, led by newcomer Eileen Davidson, believed that Kim was under the influence of something," a show insider previously told RadarOnline.com. "No one saw Kim drink or take any pills, but she did slightly slur her words during one of the initial outings on the trip."
Nevertheless, Kim's family, including sister, Kyle, "are all very concerned about her....They don't want her to fall off the wagon," the source added.