Exclusive
Dog Fight! Kim Richards Skips Kyle's Birthday Lunch As Feud Over Pitbull Attack Continues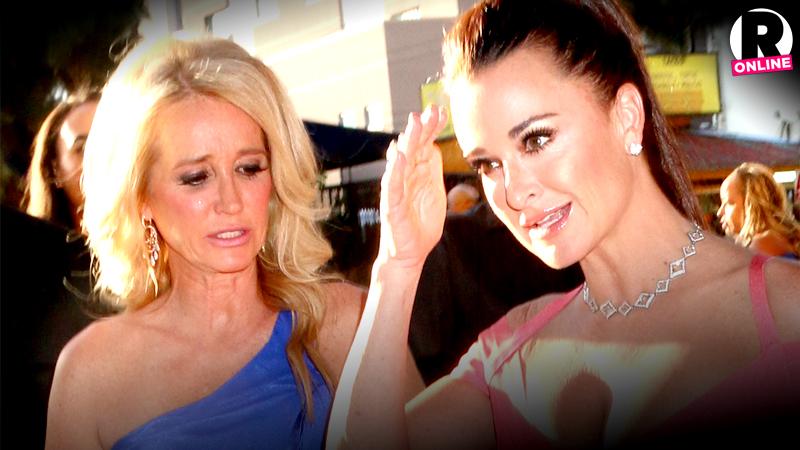 The bitter feud between Real Housewives of Beverly Hills sisters Kim and Kyle Richards is turning into a real dogfight. Just over two months after Kim's pit bull attacked Kyle's daughter, Alexia, Kim was noticeably absent at Kyle's birthday luncheon on Friday — and sources tell RadarOnline.com it's because of the attack.
Kyle hosted a birthday luncheon at The Palm in Beverly Hills last Friday, which was attended by her best friend, Faye Resnick, and co-stars Eileen Davidson and Camille Grammer. But the happy ladies day out was marred by a giant elephant in the room — her sister Kim was MIA.
Article continues below advertisement
"Kim not attending her sister's birthday party was impossible to ignore, especially since some of the other housewives were there," a source told Radar.
The reason for her absence? Said the source, "Kyle's friend were whispering that Kim hadn't been invited because of ongoing tensions over the dog attack."
Alexia Umansky, Kyle Richards' 18-year-old daughter was attacked last November requiring medical attention at Cedars-Sinai Medical Center.
The aggressive pooch also attacked Kim's "second mother," 80-year-old Kay Rozario, who required medical care after the dog allegedly bit her hand.
"He ripped my hand open down to the tendon," 80-year-old Rozario previously told RadarOnline.com. "Blood was everywhere. I was soaked in blood. The floor was soaked in blood!"
"While Kyle has publicly supported Kim keeping the dog, it's very different behind closed doors," the insider revealed. "Kingsley, a pitbull, has had a history of biting people, and Kyle thinks it's just irresponsible to keep the dog. It doesn't matter that the dog has been sent off to yet another trainer. In Kyle's opinion, Kingsely is very dangerous and needs to be re-homed."
And so, the source said, "Things between Kim and Kyle aren't good. While they have had spats in the past, this time is different because Kyle believes Kim is choosing the dog over family."
A rep for Kim Richards didn't immediately respond to Radar's request for comment.
Watch: Kim Richards' Gets Emotional About Her Children