Exclusive
Kim Richards' Friend Claims She Was Also Mauled By Pitbull Kingsley In March — And Now She's Going To Sue!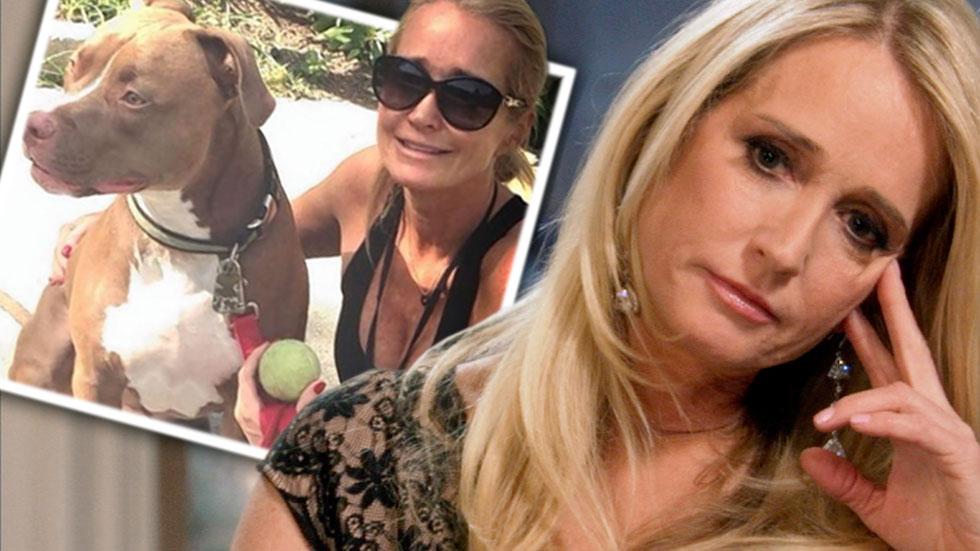 Kim Richards' niece Alexia is allegedly not the only victim of her pitbull, Kingsley. RadarOnline.com has learned that an 80-year-old Las Vegas woman who is a close friend of the Real Housewives of Beverly Hills star is filing suit against her after she was allegedly "viciously attacked" by the dog earlier this year — and now she's ready to sue!
Attorney Bill Zuhdi told RadarOnline.com, "I represent alleged victim Kay Rozario and she was attacked by Kim Richards' dog on March 20, 2014, at Kim Richards' residence. Mrs. Rozario was severely injured from the unprovoked attack of the dog."
Article continues below advertisement
"Mrs. Rozario is a resident of Las Vegas, Nevada, and she was an overnight guest at Ms. Richards' residence in Los Angeles," Zuhdi explained. "They spent the night in one of her guest rooms when she was viciously attacked by Richards' pitbull, Kingsley. I have prepared a lawsuit and will be filing the suit … early next week. Mrs. Rozario is very upset about some of Ms. Richards' statements in the press in which she appeared to blame her niece for the attack."
RadarOnline.com also spoke with Rozario herself.
"First of all, I have known Kim since she was 11-years-old," she began.
While in L.A. for the engagement party of one of Kim's daughters in March, she said, she stayed at Richards' home.
"I had no idea she had a dog!" Rozario claimed. "She didn't say anything. I slept in Kim's bed that night. I closed the bedroom door because the dog usually goes in there to sleep with Kim. The next morning I get up and put my clothes on. As I was waiting for my daughter to finish dressing, I was leaning the edge of the bed and I was looking at Kim, who was chatting away. Kingsley was on the bed with her. She got into bed and she was laying there with the covers over her head. The next thing I know Kingsley jumps at me from the side. It just came at me. I didn't see it coming at all! He ripped my hand open down to the tendon. Blood was everywhere."
Article continues below advertisement
"I was soaked in blood. The floor was soaked in blood. Kim was saying, 'Don't say anything. Please don't say anything. I might lose my show.' How could she be so cold?" Rozario said. "The paramedics came and bandaged me up. One of the paramedics asked if I wanted to call to have the dog euthanized. I said, 'No she will do it.' After that my daughter drove me to Sherman Oaks Hospital, which was close by."
"They took me in right away. I was there for two and a half hours. He bit the back of my right hand and my left arm from the wrist down. If I had not had my arms up, that dog would have gotten me in the neck and the eye," she claimed. "I protected myself from the position of my hands. I am lucky I am alive. Hitting that furniture could have killed me."
"Kim contacted me four months later," Rozario said. "She never offered to pay my medical bills. She did nothing. I said to her, 'You have to get rid of this dog.' She said, 'No, I can't. He is my best friend and I love him.'"
Article continues below advertisement
"I still get severe pain in my arm and in my back," she claimed. "I was sick for three to four weeks with the trauma."
As RadarOnline.com reported on Thursday, Richard's 18-year-old niece Alexia, who is Kyle Richards' daughter, was rushed to Cedars-Sinai Medical Center on Saturday, where she suffered "one puncture wound to the thumb and had one procedure to clean it out," a source close to the Real Housewives of Beverly Hills star said.
Now Kim is mulling over the chocie whether to put the dog down, though no decisions have yet been made, her rep said.
Do you think that Kingsley should be euthanized? Let us know in the comments below.