Exclusive
'RHOBH' Star Kim Richards Mulling 'Very Difficult Decision' To Put Dog Kingsley Down Following Niece's Attack — Read Her Heartbreaking Statement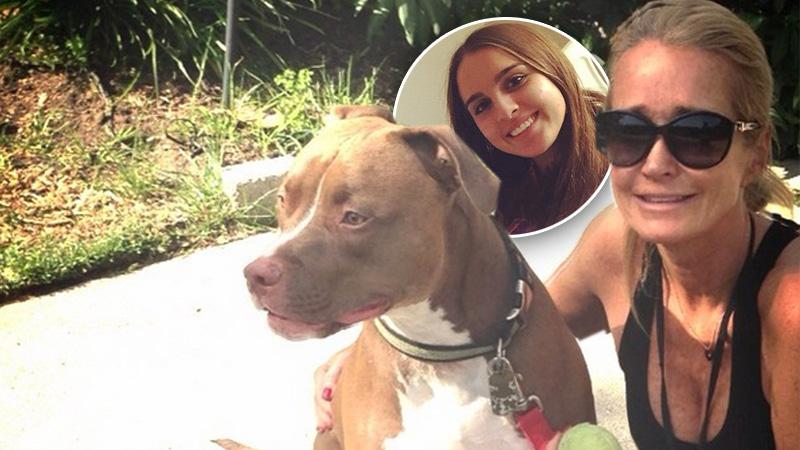 Kim Richards is already going through a tough time, with her beloved ex-husband Monty Brinson dying of cancer, and new rumors she's fallen off the wagon. But her world was rocked this weekend yet again, when her pitbull Kingsley bit her 18-year-old niece, Kyle Richards daughter Alexia Umansky, on Saturday morning at Richards' L.A. home. The girl was rushed to Cedars-Sinai Medical Center where she was "cleaned and bandaged," but with new reports the dog could be put down, Richards and friends are reaching out to RadarOnline.com about what really happened — and if the dog will be allowed to live.
Article continues below advertisement
Listen! 'RHOP' star Wendy Osefo breaks down the "most intense fight in the show's history" in under 2 minutes.
A source very close to the Real Housewives of Beverly Hills star tells RadarOnline.com "much of what is being reported is absolutely untrue!"
"There was one puncture wound in Alexia's thumb and she has had one procedure to clean it out," the source says, referring other outlets who are "falsely reporting" that the 18-year-old was bitten "numerous times" and required "multiple surgeries."
Richards told RadarOnline.com in a statement, "First off let me start by saying the safety and welfare of my family means the world to me. I love Alexia like she is my own child and have been in constant contact with my sister Kyle and niece Alexia."
"The events that led up to Kingsley biting Alexia resulted from the girls entering my bedroom after I already told them my room was off limits," she continued. "Alexia has been away from college for months and hasn't seen Kingsley in a long time. Kingsley is used to the home being full of children and since the kids have gone away, the house has become quiet. While the two have been very close and friendly in the past, the dog has become very protective of me in the meantime. When guests are over, Kinglsey stays in my bedroom and has been given access to a special fenced in area in my backyard. Anyone entering the house is made aware that the dog should not be bothered."
Article continues below advertisement
"The second I realized Alexia had been bitten on the finger leaving a puncture mark on her thumb, I immediately called my sister, Kyle, and took her to the nearest emergency room," she said. "After the wound was cleaned and bandaged the girls went on with their day and I stayed in contact to make sure that my niece was ok. After she re-entered the hospital two days later, I have visited and continue to make sure that she is in good spirits. The one procedure that Alexia has had was to clean the wound to make sure it would not get infected."
"At this point I am looking at options to what the next step is for Kingsley," she revealed. "As many of you can relate, he is my best friend. This is a very difficult decision and time for all of us, but the safety of my family always comes first."
Following the release of the statement, a rep for Richards told RadarOnline.com, "They are in contact and this is a private family matter since the safety and welfare of the family is most important."
Do you think that Kim Richards should put her dog Kingsley down following this attack? Let us know in the comments below.