Exclusive
9021, Go: Bravo Plans On Firing Beverly Hills Housewife Kim Richards After Current Season — Sister Kyle Threatens To Quit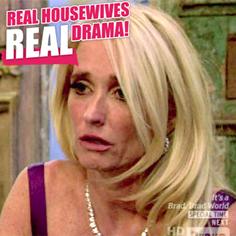 She'll have to go back to being a REAL housewife.
RadarOnline.com has learned network honchos at Bravo are planning to fire Real Housewives of Beverly Hills star Kim Richards after the current season because her storyline is "boring."
"The network is not entirely happy with the ratings for the current season of Beverly Hills and sadly, despite being Paris Hilton's aunt, she has little going on in her life," a production source dished to Radar.
Article continues below advertisement
"Viewers don't care about watching Kim's dog getting training. It's boring!"
But any decision could ignite a stand-off with Kim's fiercely protective sister Kyle, who has threatened to quit the franchise in protest if she's fired.
Said a source: "As you can imagine, Kyle is very unhappy about Bravo's plans. She has made no secret of that fact that she'll threaten to quit if her sister is fired."
One of the reasons, according to an insider, is that the show is the "only steady income that Kim has and Kyle doesn't want to financially support her again."
Though the cast may have the biggest homes, largest bank balances and most plastic bodies, the once-mighty franchise had dropped, at one point this season, as much as 13.16 percent in total viewership season-on-season.
The season four premiere pulled in just 1,592,000 viewers, according to Nielsen (via Bravoratings.com) — a result well down from season two which debuted with a whopping 2,183,000 viewers!
Article continues below advertisement
What's more, the decline in viewers aged 18 to 49 years were even higher — as much as a 30 percent loss.
Additionally, the Beverly Hills ratings are being dwarfed by the franchise powerhouse The Real Housewives of Atlanta which is averaging (via Bravoratings.com) over 3.2m viewers per episode and showing growth of 11.45% over its prior season.
Those numbers have picked up throughout the season, however.
Ratings for 90210 finally reached two million as Brandi Glanville and costar Joyce Giraud sparred on camera.
That is exactly what Bravo will be looking for in any replacement for Kim, as well as Kyle, said the television source.
"They could be looking for at least two new housewives for the next season," said the insider. "In any event, producers will be looking for ladies with over the top lifestyles, who bring the drama. The Brandi-Joyce feud is really the only storyline so far this season that the audience is engaging with."
Sound off in the comments below: Do you think Kim and Kyle should be let go, or leave, Beverly Hills?