Beyonce, Jay Z & Solange Break Silence On Explosive Elevator Attack: 'We Have Moved Forward As A United Family'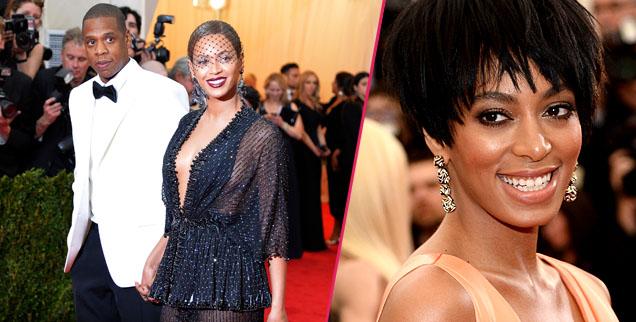 What elevator attack?
Four days after surveillance footage of Solange Knowles attacking Beyonce's husband, Jay Z, in an elevator after the Met Ball, the three have released a joint statement saying they are moving forward "as a united family."
"As a result of the public release of the elevator security footage from Monday, May 5th, there has been a great deal of speculation about what triggered the unfortunate incident. But the most important thing is that our family has worked through it," the statement reads.
Article continues below advertisement
"The reports of Solange being intoxicated or displaying erratic behavior throughout that evening are simply false," the statement continues.
"At the end of the day families have problems and we're no different. We love each other and above all we are family. We've put this behind us and hope everyone else will do the same."
As RadarOnline.com exclusively reported, despite their claims of a united front, it looks like the hip hop couple may be having marital issues.
Article continues below advertisement
The "Drunk In Love" singer is currently having her meaningful "IV" ring finger tattoo removed and an insider tells RadarOnline.com her relationship with Jay Z isn't as blissful as it appears.
"To the public, Beyonce and Jay Z appear to have it all. But behind close doors, they're not as happy as people think they are," the source said.
"Jay's been telling his friends that Beyonce is getting her ring tattoo removed, the one they got when they were married. He just sorta shrugs it off though saying 'Nothing is forever.'"
Meanwhile, another source tells RadarOnline.com that Solange had been upset with Jay Z "for weeks" because the music mogul, 44, wouldn't allow her to perform on his upcoming "On The Run" tour with wife Beyonce.
"Solange had expected to be named the opening act for Beyonce and Jay," the insider told RadarOnline.com.
"She always travels with Beyonce when she tours. Even though she hasn't released new music since 2012, she thought it would just be a given."