Solange's Erratic Elevator Beat-Down Of Jay Z Isn't The First Time She's Shocked: A Look Back At Some Of Her Most Bizarre Moments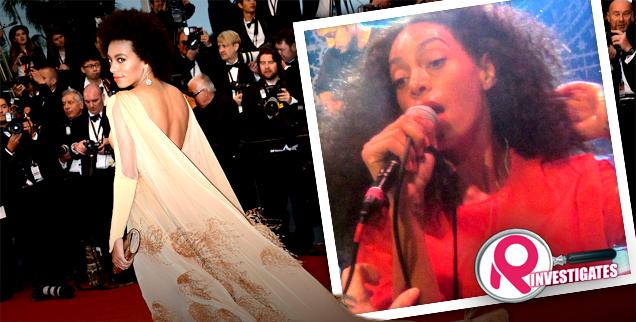 Article continues below advertisement
Jay Z, Beyonce and Solange Knowles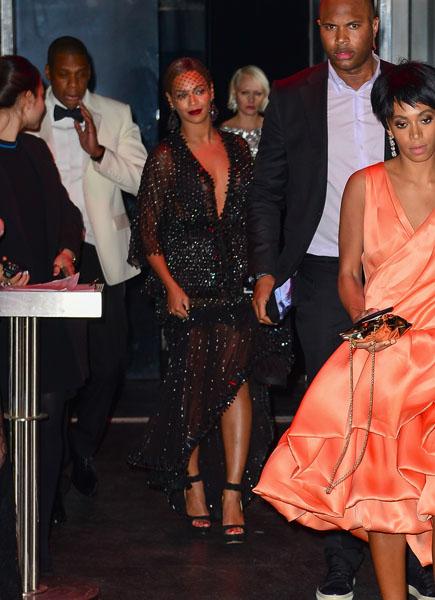 On May 12 surveillance video leaked online from inside an elevator at The Standard Hotel in New York City that showed a shocking scene: Beyonce's sister Solange attacking her husband Jay Z. The incident took place on the night of May 5, after the three attended the Met Ball and after-party when out of nowhere, Solange erupted on her brother-in-law, punching and kicking him during a wild all-out attack in the elevator on the way down to the lobby. It's still unknown what sparked the scuffle, but Solange has a long history of acting out in bizarre ways.
Solange Knowles and son Julez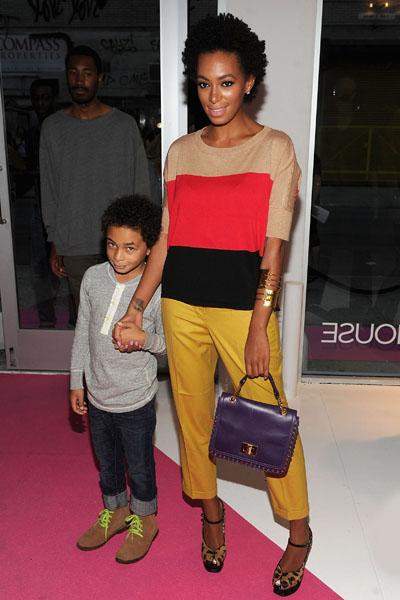 Last summer Solange abruptly called off her European tour, and as an admitted drug user, reports of marijuana use were to blame. But reps for Beyonce's sister instead cited her "mental/physical health" and needed to regroup at home with her son, Julez.
Article continues below advertisement
Solange Knowles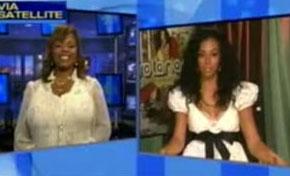 In August 2008 Solange appeared on a local news show to promote her second solo album but made a spectacle when she awkwardly called out the news anchor for his introduction that included a reference to Jay Z's current scandal with his 40-40 Club. "I have to say, that was not a very professional introduction before," Solange told the woman interviewing her. "Please don't tie me into family and my brother in law's establishment." After things got tense and the piece aired, the male news anchor then called her "a little brat."
Article continues below advertisement
Solange Knowles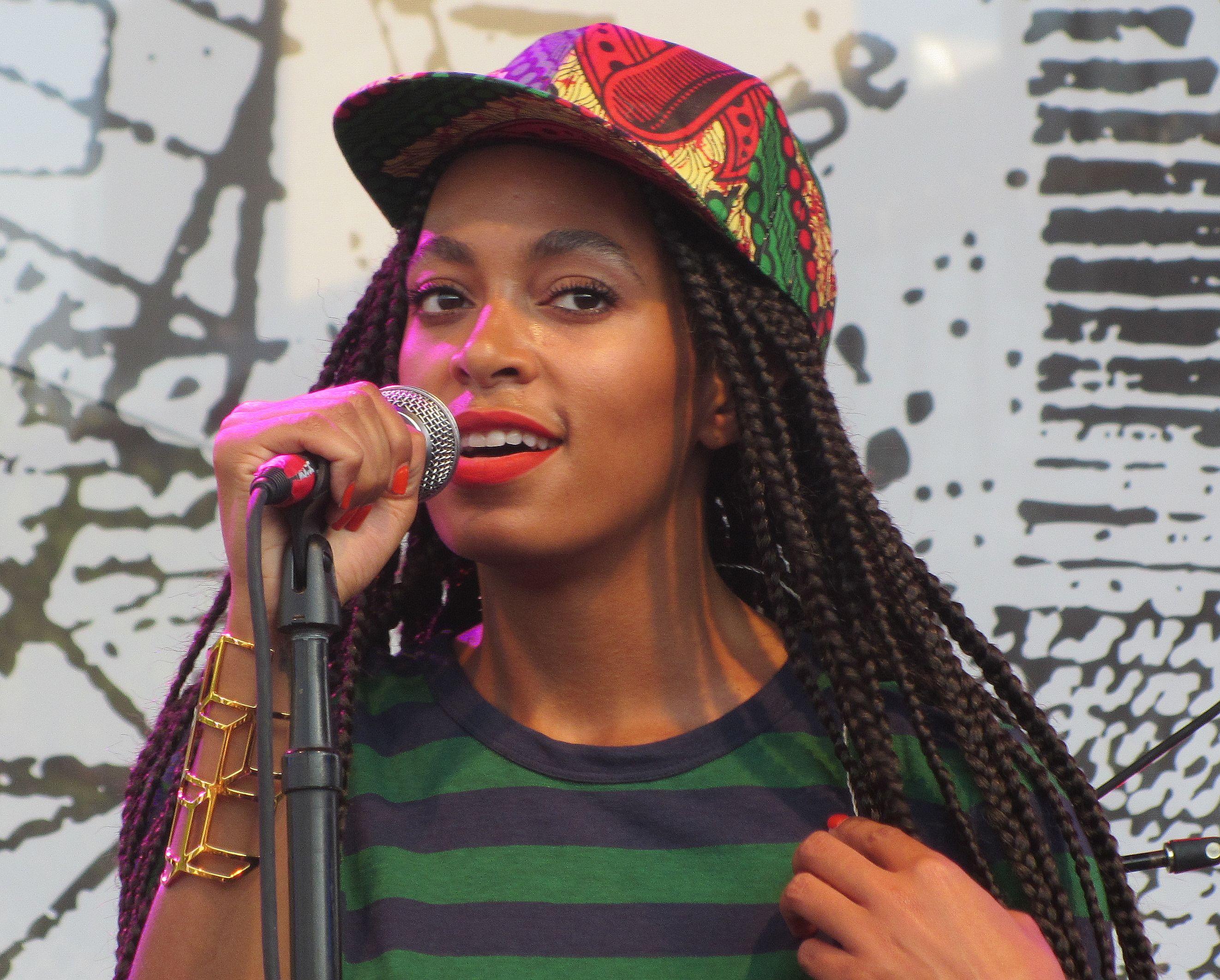 Again in 2008 she caused waves when she wrote an ode to marijuana called "Champagne Chronic Nightcap" and confirmed to the press that it was about lighting up. "I am unapologetic," she wrote. "I don't write about things unless they're true!"
Article continues below advertisement
Solange Knowles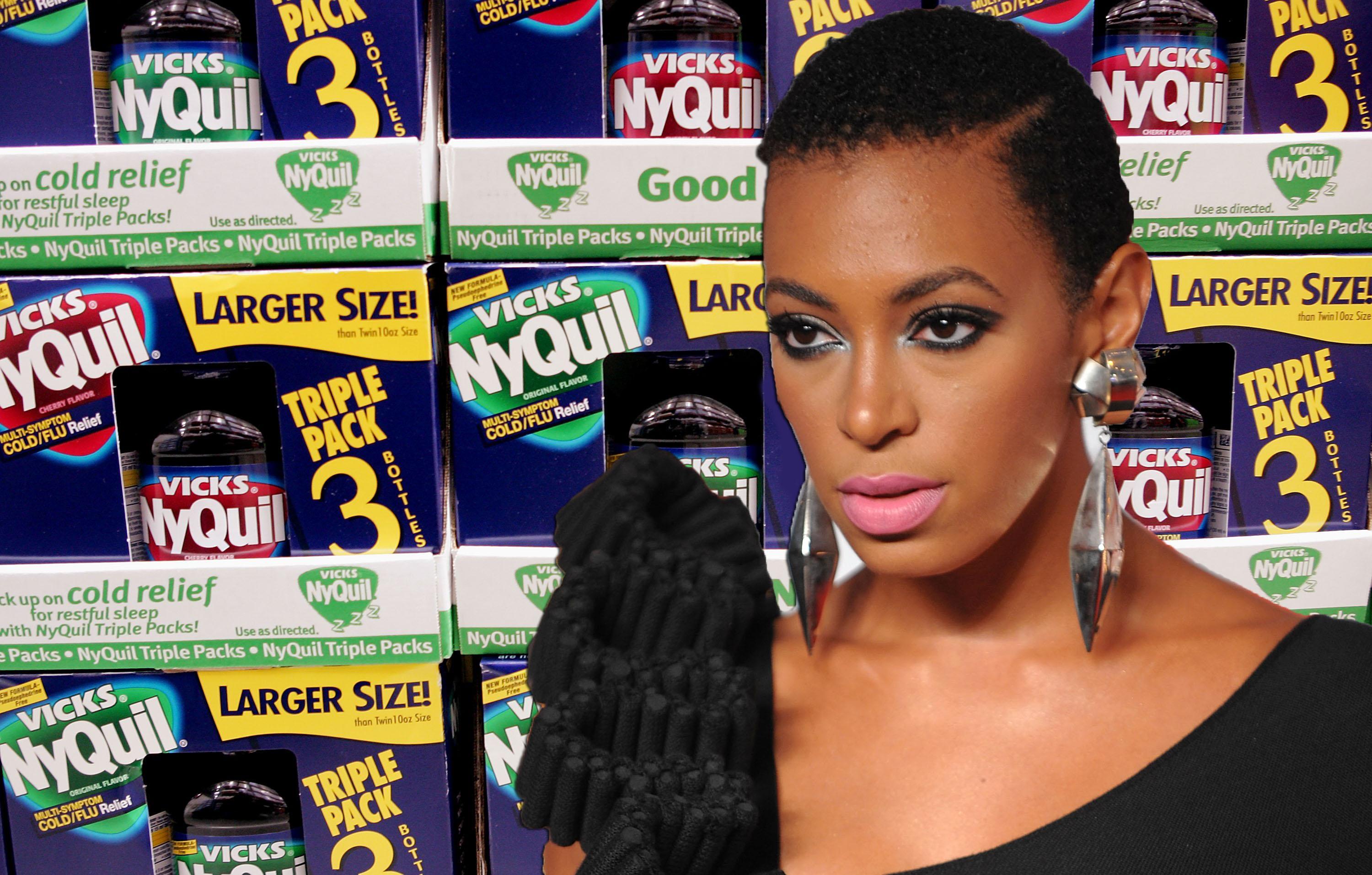 In Feb. 2009 Solange collapsed during a flight and was admitted to the hospital after overdosing on NyQuil flu pills. The singer chronicled her overdose in bizarre Twitter messages writing, "I took a nyquil and i think maybe im getting high off it because im not sleeping. maybe i should close my eyes…", "think im certified loosing (sic) it on nyquil. going to sleep before i start freestyling on the plane… omg (Oh my God) i didnt know nyquil could do this to you. i took the pills tho. cant stomach cough syrup. trying to be proactive on this flight" , "Never taking nyquil again. I feel so weird." Solange then stopped tweeting for about three hours before logging on again with the message, "Woaah…… How'd I end up in the hospital? Woke up to 8 random people over me, laid out on the floor in baggage claim!… Guess I passed out! Scary. Hooked up to IV now . Apparantly I'm super dehydrated."
Article continues below advertisement
Solange Knowles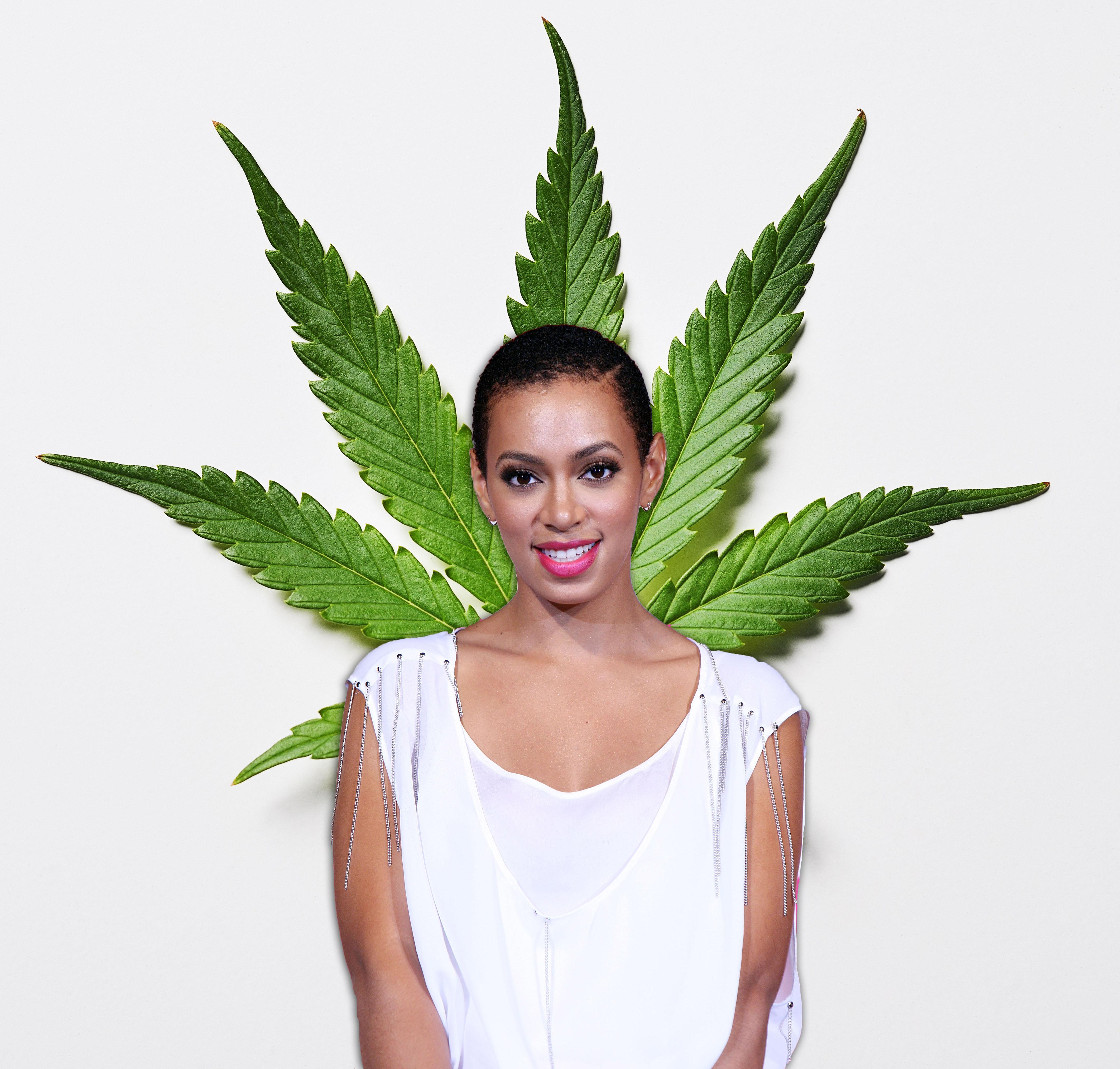 Solange has made her love for marijuana a public affair but it's admittedly affecting her. "I don't even smoke weed that often, but I'm finding I can't remember things," she tweeted on Sept. 1, 2009. And then in 2011 she blatantly tweeted to fans looking for drugs. "Is weed taboo in NYC?" she wrote. "Like, why can't I ever find any?"
Article continues below advertisement
Katy Perry/Solange Knowles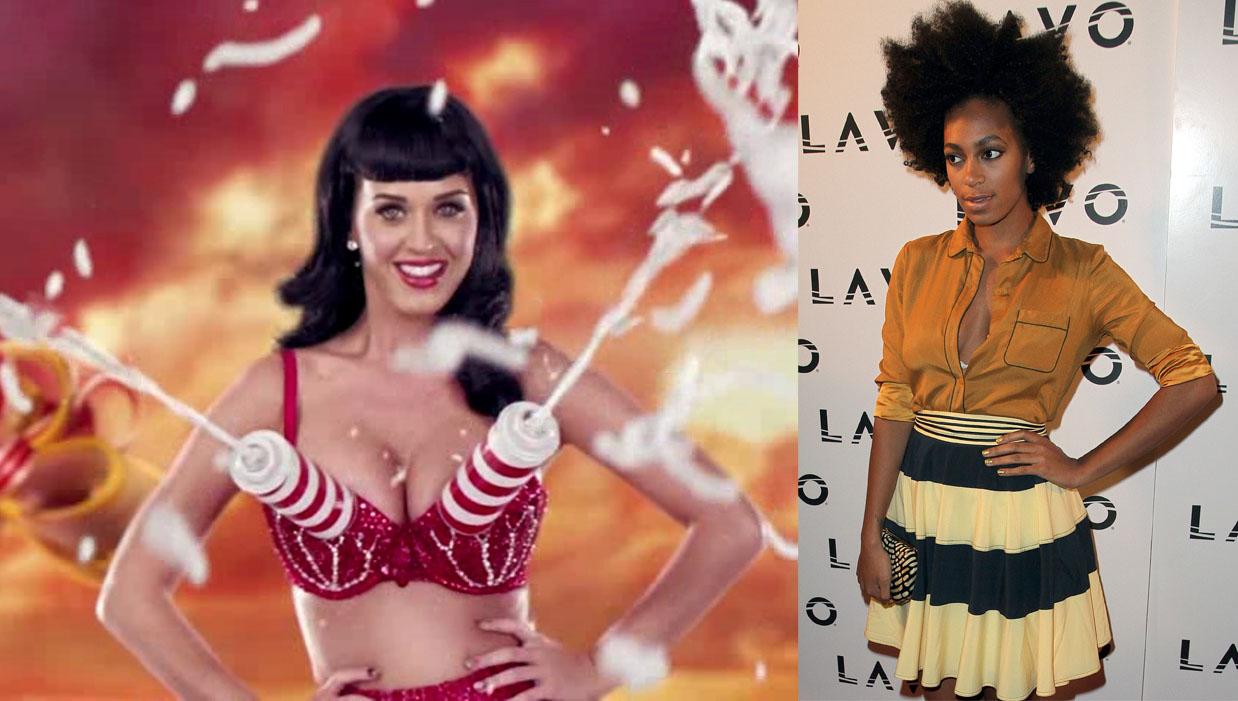 In Oct. 2010 Solange started a war with singer Katy Perry for her "California Gurls" music video, comparing it to child pornography. "Seriously, I on't like the fact dat Julez thinks he gotta sneak watched 'California Gurls' on Tube," Solange tweeted. "Katy Perry is polluting the chirrens. It is like kiddie porn tho. All them damn colors, candy and shit….and then daisy dukes, breast shooting cream…"
Article continues below advertisement
Solange Knowles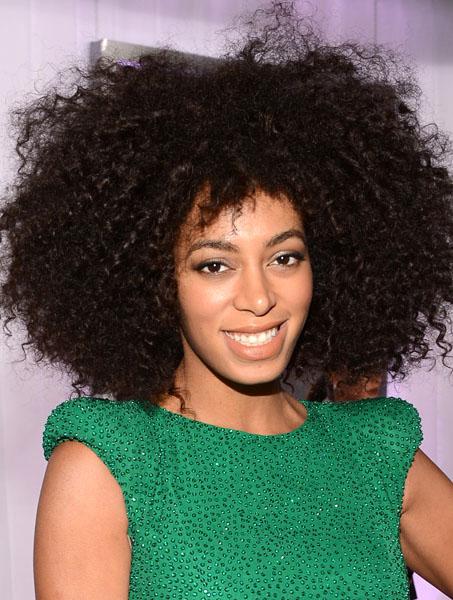 In Nov. 2012 Solange claimed TSA security guards at a Miami airport searched her afro, calling it 'Discrim-FRO-nation.' "My hair is not a storage drawer," she tweeted. "Although, guess I couuld hide hide a joint up in here."
Article continues below advertisement
Solange Knowles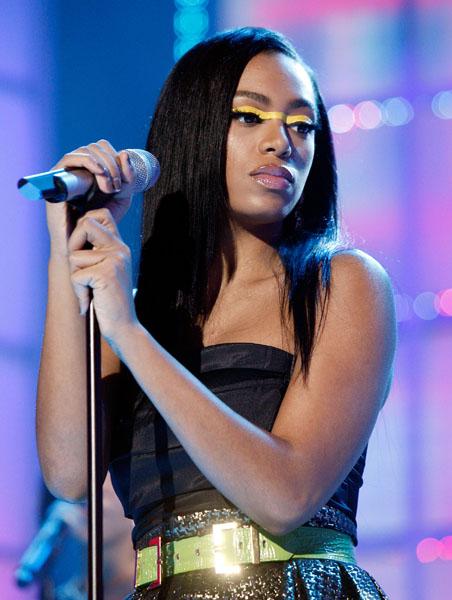 Last April Solange again took to Twitter to voice her criticism over the music industry, claiming sexism. "Y'all got it all the way wrong. Ive been writing and producing my own voice since 02, nigga … I find it very disappointing when I am presented as the 'face' of my music, or a 'vocal muse' when I write or co-write every fucking song," she tweeted. "Sexism in the industry ain't nothing new." The tweet was seemingly in response to an online music website that referred to a producer and writer on her album, Dev Hynes, stating, "Hynes has met an ideal female vocal muse in Solange."
Article continues below advertisement
Solange Knowles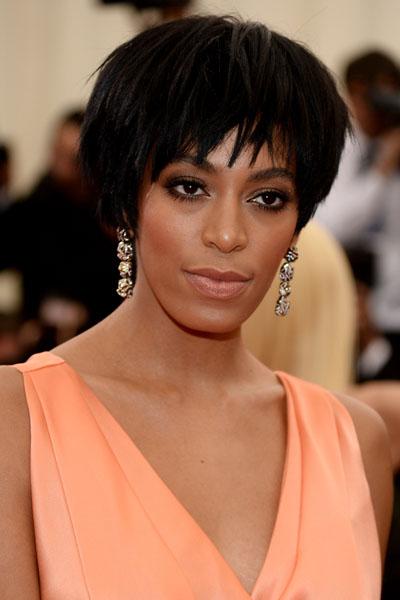 In Aug. 2011 Solange was denied entry into a Miami nightclub because she had an inflatable banana prop and claimed the Miami PD discriminated against her. "I have literally had my last leg with discriminating police!" she tweeted. "Miami police department will be notified… A police officer just pulled a weapon on me… I have done NOTHING illegal, against the law, or anything of the sort. I could have left quietly, but I am sick & tired of this scenario being played over & over again. It is time to do something about it. I am a mother raising a young black child in America. I'm going to die trying!" Miami police denied the entire incident. "We have investigated and found that this incident did not occur in our city."
Article continues below advertisement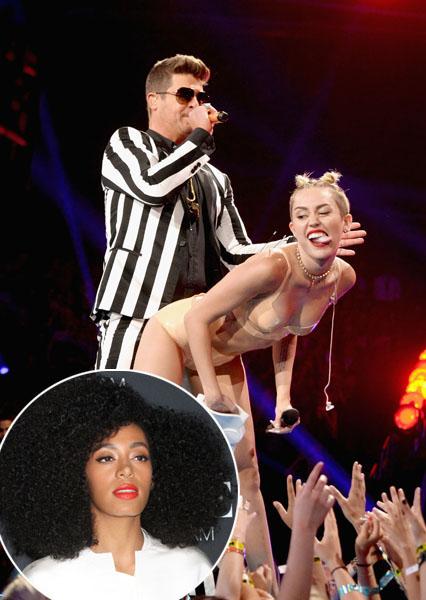 In Sept. 2013 Solange allegedly subtweeted slams to Miley Cyrus. Subtweeting is when the subject is not mentioned by name, so the subject will not see the tweets — and it's usually used for insulting and negative tweets. "It's just so fun to 'play black' huh?" Solange tweeting, purportedly at the height of Cyrus' twerking fame. "Liiiiike……Let's all dress up, and 'play black' today because that sh*t is more fun than six flags!!! 'Whhheeeeeeee.'"