Exclusive
Trouble In Paradise? Beyonce Having Ring Finger Tattoo Removed, Jay Z Tells Pals: 'Nothing Lasts Forever'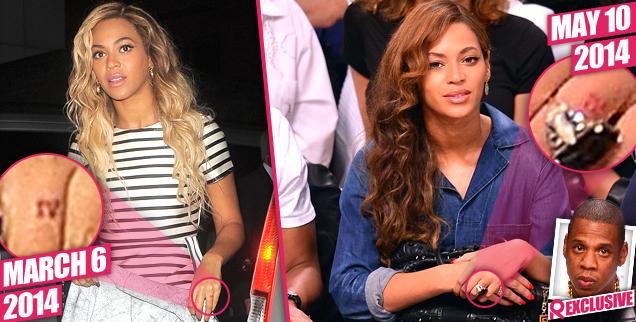 Following a vicious attack by his sister-in-law, speculation on the status of Beyonce and Jay Z's marriage is running wild — and RadarOnline.com can exclusively confirm that the "Drunk In Love" singer is having her meaningful ring finger tattoo removed because the relationship with her husband is failing.
Scribed with the Roman numerals "IV" for the number 4, Beyonce originally got the tattoo to signify her relationship with Jay Z, who was born on Dec. 4 and the couple were wed on April 4 but recently the singer has underwent treatment to have it removed and there are only traces left.
Article continues below advertisement
"To the public, Beyonce and Jay Z appear to have it all. But behind close doors, they're not as happy as people think they are," a source close to the hip hop artist told RadarOnline.com.
"Jay's been telling his friends that Beyonce is getting her ring tattoo removed, the one they got when they were married. He just sorta shrugs it off though saying 'Nothing is forever.'"
As RadarOnline.com previously reported, surveillance footage was leaked showing Beyonce's younger sister Solange giving Jay Z a beat-down in The Standard hotel after the Met Ball on May 5.
The reason for the attack is still unknown, but whispers quickly circulated about Beyonce's behavior in the video — and her lack of emotion over the fight.
"B puts out this strong, independent woman-type persona, but she's a wallflower with Jay and is basically just really submissive with him," the source told RadarOnline.com.
"And don't be mistaken; B and Jay are always aware that they are in the public eye and they were prepared in case the video came out. Jay is basically laughing about it now, and they're confident it's going to pass."
But what the couple didn't count on was the attention it would draw to their personal relationship, and what might be uncovered.