Exclusive
Inside The Duggar 'Cult': Former Followers Of 'Destructive' Religious Teachings Express Fears For The Family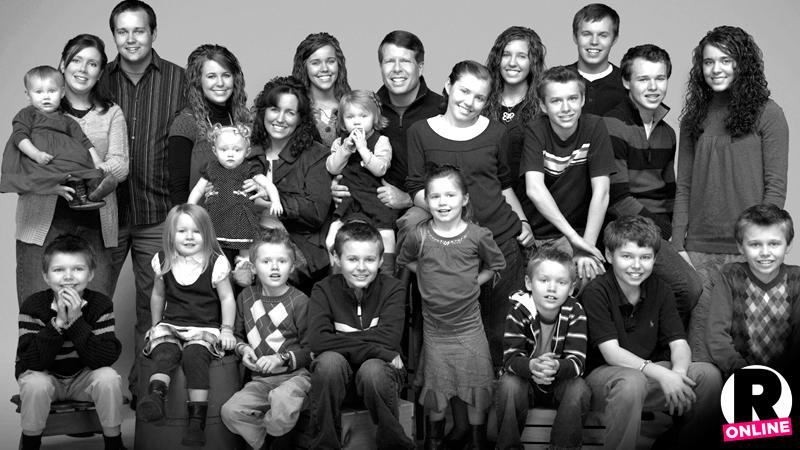 In recent years, the Duggars have become the poster family for wholesome values. But behind the 19 Kids & Counting family's strict God-loving guidelines is a controversial and ultra-conservative foundation: the Institute of Basic Life Principles. Now, in an exclusive investigation, RadarOnline.com has uncovered testimony from former followers of the IBLP, who warn that it is a "cult" that will do the famous family's children more harm than good!
Article continues below advertisement
Jim Bob and Michelle Duggar began homeschooling their brood in the 1990s using the Bible-based curriculum of the IBLP's Advanced Training Institute, which was founded by disgraced leader Bill Gothard. He resigned from the organization last year amid allegations of sexually harassing women at his ministry and failing to report child abuse cases.
Largely because of this tarnished history, former devotees of the Duggar family way say it's hard to even watch them play out their beliefs on their show.
"I have no problem calling it a cult," former follower Micah Murray told RadarOnline.com. "What the Duggars are doing is putting Gothard's philosophies on display as a positive thing and they are not positive."
"From my experience, it has the hallmarks of what makes cults so damaging -- abusive authority structures, the way that people's thinking and behavior is controlled, the way that people aren't taught to trust themselves and trust their leader unquestionably," continued Murray, who runs his own blog, Redemption Pictures, about his experiences inside the Institute.
Article continues below advertisement
"I've seen a number of episodes of 19 Kids & Counting and it makes me very uncomfortable," he added. "I think the Duggars are probably very nice people. They're probably very sincere people. But I think that the teachings of Bill Gothard are very destructive."
"It does make me uncomfortable to see it all portrayed as healthy wholesome family values when it's not."
Murray, who grew up in the Institute and worked at Gothard's training centers, broke away from the religion after becoming disillusioned with the beliefs when he was just 21 years old.
"I remember when I was there, I was starting to hear the accusations and the rumors that this is a cult and I thought, this is unhealthy," he said. "The longer I was there, the less and less comfortable I was with what was going on. As I started to get more of the voices in my mind and saw the inter-workings of the Institute, I began to see a lot more of the abusive authority structure."
It was the "bizarre amount" of control over members' lives that alarmed Murray the most, he said.
Article continues below advertisement
"We weren't allowed to wear jeans and cargos except only on Saturdays. We weren't allowed to have facial hair. If I went two days without shaving I'd get the 'why aren't you shaving?'" he claimed. "We had to wear suit jackets at dinner every night, weren't allowed to talk to girls. If a group of staff members wanted to go out to a fast food restaurant we had to fill out a request form and have it signed."
"I remember vividly when I had a going-away party, we went to like a fast food restaurant or something and I had like four guys and four girls come and I had to get a supervisor sign it," he claimed. "And he did, but he crossed out all the names of the girls. And said 'no girls.'"
In the Duggar household, the patriarchal system sets the tone: The women are required to wear modest clothing, and the family bans alcohol, tobacco, PG-13 movies, rock music and even dancing.
Article continues below advertisement
Even though the Duggars seem to be modernizing their modest morals, Murray says their lifestyle choices are hiding deeper issues.
"Even when we were in the Institute, we were not that strict," he claimed. "We listened to rock music or we watched PG-13 moves and wore jeans. What the danger is there, is that you can change the rules all day, but the underlying views are destructive to mental and physical health. You don't have autonomy, you should always be asking permission, you don't trust your instincts."
Photos From Jill Duggar and Derick Dillard's Wedding Day Revealed! Inside Their Special Day
"You can change the length of your dress," he said, "but if there are the same philosophies you're embedding in your children, you're going to have same destructive results."
Murray said it was the constant mixed messages that led him to question everything he believed in his whole life. "The messages I interpreted were that you're never quite good enough and if you try a little harder you'll be blessed," he said."If you're not happy or not successful, it's your fault. You're doing something wrong. You need to try a new thing. And it created a perpetual state of almost but not good enough, which is exhausting."
Article continues below advertisement
"Gothard always had a new pitch, new product, seminar, new idea. It kept all of us who were so desperate to be loved and be successful there since these were people who genuinely wanted to raise families to be happy and successful. He always had something. It was a state of relentless effort, there was never peace or arrival."
"I think it was designed to keep people in that state of never good enough because you'll keep listening to him, buying books, going to seminars because if you have healthy centered families then they won't be easily manipulated and they won't need him."
Kari Underwood, who founded the organization Recovering Grace to lend a supportive voice to Gothard's former adherents, told RadarOnline.com that she also became confused by the leadership standards.
"I saw a lot of inconsistencies. You peel back the layers and see how it really is," she told RadarOnline.com.
"What I saw as a sincere young person was that Bill didn't follow his own guidelines. When and how you would eat, fasting, dating or not dating, being alone with the opposite sex — none of those things would be followed by him."
Article continues below advertisement
But the fear of retribution or worse — being an outcast — was palpable, and kept people from speaking up about their doubts, she claimed.
"If you were to bring something like that up you would certainly be sent away," said Underwood, who claims to have seen Gothard's questionable behavior firsthand. "There was fear there, too."
Over the years the Duggars have been photographed with the controversial 79-year-old former head of the organization. Gothard was cleared of any criminal wrongdoing, but after his legal troubles they appear to be distancing themselves from him.
Still, Murray isn't buying it.
"Whenever I read an article online or an entertainment magazine I still see what appears to me to be all the same underlying ideas and structures of performance and public appear and rule-based religion. It still to me has Gothard's ideas and philosophies all over it even if his name isn't on it," Murray said.
For example, the Arkansas family's strict courtship ritual, overseen by Jim Bob, not only dictates that the father chooses his kids' mates, but that they refrain from any physical contact or even spending time alone together before their wedding.
Article continues below advertisement
"It's very based on a pretty patriarchal and misogynistic philosophies," Murray claimed.
And like Murray, Underwood says it's difficult for her to watch the Duggars on the small screen, because it brings back too many dark memories of her past 20 years ago.
"They seem like a lovely family," she said. "To be fair to them, I see the Duggars as sincere people as my parents were. I respect that. I believe that they have made some decisions for their family that are not healthy for bringing up children."
"I think we all should protect our children," she added, "but when you bring children up in a bubble that's separated in the world, if you're not even in the world, you're not training your children how to live in it."
"I feel they're doing their children a disservice by restricting them. Very few of their children probably feel restricted now. But as an adult I realized there were a lot of holes in my social education… I see them being misdirected. I think they're making a mistake."
Article continues below advertisement
Murray says he can understand the "freak show effect" the Duggars have on viewers, but Underwood says their attempt to maintain the image of a perfect family is "dangerous."
"People are tired of the hedonism of our culture. They're looking for something real and a better path and are going to be drawn to the Duggars who seem to have a handle of what it is to be moral," she said.
"Unfortunately, I've been there and done that and the thing is about people -- even if you believe in morality and god, god gave each one of us a choice and bringing up your children in such a way that the father makes all the decisions, sons have no choices until they've moved on, women have no choices, it's a hierarchy of protection. But it's not a protection."
Furthermore, the reality show goes against everything the Institute stands for – making the Duggars hypocritical in their beliefs, she says.
"To me, the whole thing is inconsistent. It's important to be consistent when you have that many rules. It's misleading," Underwood added.
"When I was growing up, you couldn't be in the ATI program if you had a television. I wouldn't have access to this television show. It's confusing."
Article continues below advertisement
In fact, according to the ATI application, "most TV viewing destroys the purpose for home education. It instills the false presuppositions of the world into the thinking of sons and daughters and desensitizes them to worldly standards that are destructive to morals and behavior." It further emphasizes that ATI families should remove TVs from their homes completely.
"Their children probably don't watch much television, but yet they're on a TV show," said Underwood. "Their life is confusing and inconsistent about the choice to go public with this lifestyle."
Underwood added that it was a long process for her to get to a place where she finally identified her former belief system as "cult-like."
And for the Duggar kids, three of whom are married, including most recently 22 year-old Jessa last November, it will be an even longer journey to get back to normalcy if they decide to leave.
"When you join a cult you're coming from ostensibly a normal life. If you leave the cult you're going to go back to previous life in some form," said Underwood. "For people like me who were brought up in this we have no prior life to go back to.
Article continues below advertisement
"There is nothing for the Duggars kids to go back to," she continued. "So it's a very difficult position to be in… it's very difficult to be brought up in a lie and find your new way."
"It's tough to be a child of a cult. I feel the most for the children. I feel if they decide they want to move away if IT would be very difficult… there would be shame."
"In my opinion, if those children decide they want to leave the family lifestyle, they're going to have to leave the country, be a missionary and be out of the picture. I can see that happening."
"And even if there was a tell-all, it wouldn't be anytime soon. It took all of us 10 years of recovery afterward just to find out what we do believe in and where we stand in the world."
Murray pointed to the long-term effects of dependence and self-doubt he's had to overcome.
"I think that it's a very real risk if they are indeed following his teachings as closely as they appear to be. It's likely they will wind up with unhealthy adults down the road," he said of the Duggar children.
Article continues below advertisement
"I wouldn't blame Jim Bob and Michelle. Not that they aren't responsible for their own actions, not that they're bad people for being in the Bill Gothard cult. But he's a master manipulator."
"I don't know if I would say it should be off television," however, he said. "Obviously, the Duggars are making money. I would hope it could spark a conversation about what is really going on with the teachings of Bill Gothard."
Gothard has denied all claims of impropriety, while admitting he was not without fault. He wrote in April 2014, "God has brought me to a place of greater brokenness than at any other time in my life. It is a grief to realize how my pride and insensitivity have affected so many people. I have asked the Lord to reveal the underlying causes and He is doing this."
"My actions of holding of hands, hugs, and touching of feet or hair with young ladies crossed the boundaries of discretion and were wrong," Gothard wrote. "They demonstrated a double-standard and violated a trust. Because of the claims about me I do want to state that I have never kissed a girl nor have I touched a girl immorally or with sexual intent."