Awkward Or Awesome? The Duggars Release Their First Music Video!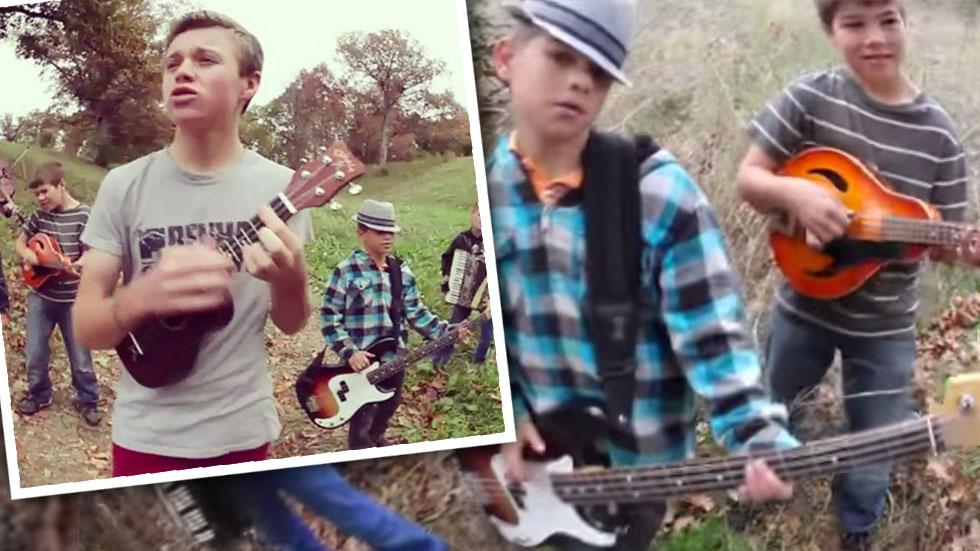 Are the Duggars music to God's ears?
"Everyone has to check out my brother's YouTube channel 'Duggar Studios' to see their latest music video 'Happiness,'" Jill Duggar gushed on Instagram of four of her brothers and several of the Bates kids lip-synching to the Lawson Bates hit song.
The video shows the newly minted boy band rocking awkward moves and "playing" guitars and an accordion in the background.
Article continues below advertisement
Hopefully the fledgling musicians won't fall into temptation and scandal on their quest for musical domination. As RadarOnline.com reported , their older sister, Jessa Duggar, created quite a stir of her own at her wedding to Ben Seewald recently.
Wedding guest Mary B. claimed outrageous rumors spread among shocked guests at the reception that Jessa, 21, and Ben, 19, were caught in an act of "lust" when her free-spirited sister Jinger, 20, accidentally opened the door to the couple's "kiss" room in the Arkansas church.
"Multiple people were discussing that when Jinger opened the door to get Jess for the reception, she immediately closed the door with a look of shock on her face," Mary alleged on Christian fundamentalist blog "My Life As A Stay At Home Wife And Mom." "A big group of the girls were waiting outside the room to walk with her out…and my own daughters saw as well."
Watch the video and tell us what you think in the comments:
youtube=https://www.youtube.com/watch?v=-Mqiw_3tH8s&w=551&h=340