From Feet To Fight: 'Disgusting' Toes Claudia Jordan Spars With NeNe Leakes, Who Calls Her 'Half-Breed'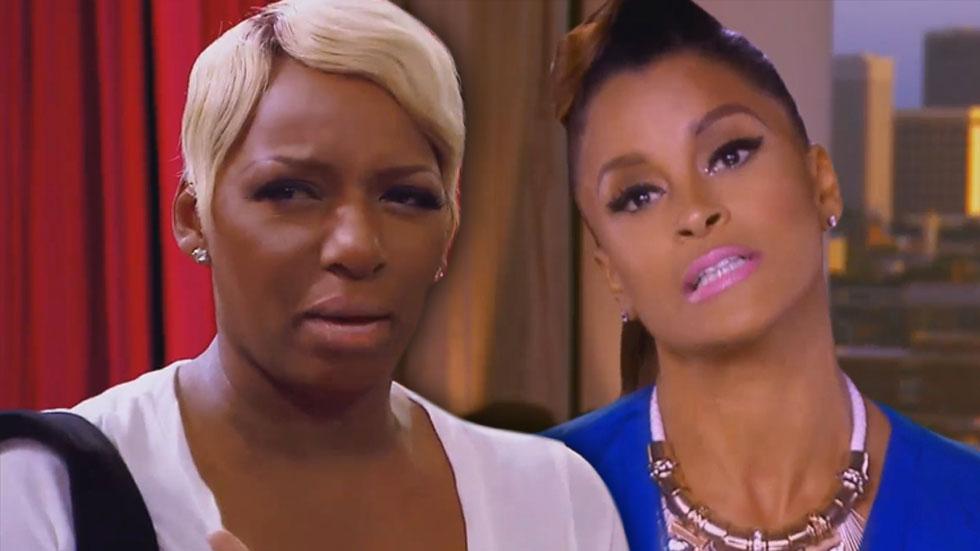 On Sunday night's The Real Housewives of Atlanta, Claudia Jordan finally showed viewers the embarrassing foot problem she'd been keeping under wraps, and later tangled with NeNe Leakes, who called her a "half-breed."
As the episode began, Jordan visited a foot surgeon, telling the cameras that because of playing sports, she suffers "from a very serious problem that affects a lot of women out there" and has "wreaked havoc on her feet."
Article continues below advertisement
Jordan said her toes are "disgusting" and "look like snowcapped mountains."
Pal Kenya Moore screamed when she saw Jordan's nasty feet, which displayed corns on the toes and a bunion on one foot.
Dr. Jason Morris suggested a surgical boot for the former Price is Right hostess.
But a problem that hasn't been solved is the feud between Jordan, 41, and Leakes, 47, which boiled over during a housewives' trip to Puerto Rico.
Newbie Demetria McKinney clashed all episode with Phaedra Parks, and over a girls' dinner, Jordan took McKinney's side, saying the others were "b*tchy and catty."
Watch the video on RadarOnline.com
Then Leakes unleashed her fire on Jordan.
As RadarOnline.com previously previewed, the two got into a heated fight, with Leakes saying Jordan had slept with many men.
For her part, Jordan called Leakes "the puppet master."
Article continues below advertisement
"You wish you had what I have in the bank, darling," Leakes -- who loves to boast, "I'm rich, b*tch!" -- told her new reality rival.
Jordan said she'd worked for 17 years and didn't "have to get on a pole" -- a brash dig at Leakes' admitted stripper past.
Leakes sneered, "You filed for bankruptcy, girl."
"I've never been arrested," Jordan pointed out to Leakes, whose mug shots have been well-circulated.
Leakes admitted, "I was arrested in my 20s, when I was in college," and added, "I was a stripper and I liked it. That was 20 years ago."
Leakes charged that Jordan had been "f*cked by everybody in Hollywood" and called her rival a racial slur referring to bi-racial people: a "half-breed."
In the aftermath of Burruss' friend Gocha claiming she'd dated McKinney's boyfriend Roger Bobb, McKinney told Kandi Burruss, "I'm over it."
Article continues below advertisement
Later, Leakes and Parks visited singer/actress McKinney in her studio and McKinney told the housewives Bobb had assured her he had only seen Gocha during a break in their on-again, off-again relationship. Parks developed an instant attitude with McKinney, wondering why she'd been dating Bobb for eight years without marriage, questioning her musical choices, and asking her if she'd ever used crack (because her House of Payne character did so).
Shocked McKinney denied any crack use, and later, in Puerto Rico, complained about Parks' comments to Moore, Jordan, and Cynthia Bailey.
"Phaedra makes me nervous," McKinney said to the ladies.
"She will throw daggers at you," Moore warned McKinney.
Later, over dinner, McKinney, who brought the gang to Puerto Rico for her concert, confronted Parks.
"You asked if I actually smoked crack -- I thought that was shady," she said.
Article continues below advertisement
McKinney told Parks pursuing a pop music career was valid because, "I'm younger than you."
Parks said she was just being honest that McKinney should sing gospel or folk instead.
And regarding her relationship, she pointed out McKinney was the one who talked about Bobb in the first place.
McKinney told Parks the only thing they had in common was the number eight -- she'd been with Bobb for eight years and Parks' husband, Apollo Nida, was going to prison for eight years.
"I have a ring, so it is very different," Parks snapped.
Parks offered a half-hearted apology for offending McKinney, then mumbled at the table, "I don't even know this girl. I could care less about her."