'I Dated Him Too': Demetria McKinney Gets Bad News About Boyfriend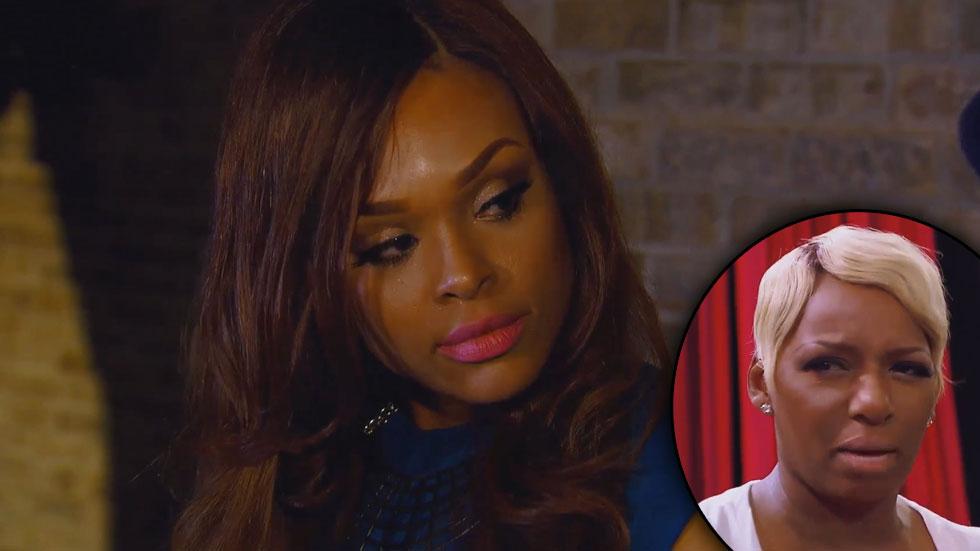 Did The Real Housewives of Atlanta newbie Demetria McKinney's longtime boyfriend Roger Bobb cheat on her?
McKinney faced that painful possibility on Sunday night's episode as a friend of Kandi Burruss' named Gocha claimed SHE dated Bobb at the same time McKinney said the producer was exclusively her man.
At a party Burruss threw for the housewives to discuss sex and relationships, McKinney declared, "I am and have been, off-and-on for seven, eight years, dating Roger Bobb. He's my best friend. The "D" is exquisite!"
Article continues below advertisement
Watch the video on RadarOnline.com
But then Gocha dropped a bomb, telling McKinney, "I dated him, too -- not last November, but the November before that."
Gocha told singer/actress McKinney (who said she and Bobb kept their relationship a secret because of their careers), "He told me you were just his artist."
At that point, a shaken-looking McKinney walked out of the room and Cynthia Bailey followed her.
"I'm absolutely fine," McKinney told Bailey outside, saying she was "almost positive" Gocha was lying.
"I do not know her, but I know him," she insisted to Bailey.
Meanwhile, back at the party, the show's focal point NeNe Leakes asked the other ladies about McKinney, "Who dates somebody eight years when you're almost 40-years-old?"
Leakes added, "What guy is dating a girl, saying, 'I don't want to be public with you?'"
Article continues below advertisement
Meanwhile, Bailey told the cameras, "I feel bad for Demetria. That had to be really humiliating, awkward, embarrassing, every word I can think of."
Also on the episode, fans saw Phaedra Parks consulting contractors at her home about her security needs because husband Apollo Nida would soon begin serving his eight-year prison sentence.
After Nida arrived during her meeting, Parks cracked in confessional, "They must be cleaning the streets today, since he's not running them."
Parks told her husband she was going to re-landscape the whole estate, and he fumed to the cameras, "No one respects me, for some reason. It's always been like that in my household.
"She could have waited until I went to prison to do all this. As of now, the way it seems, I don't even have a place to stay when I come home."
Later, Parks accepted an award at an event for African-American lawyers and commented to her proud mom that she had to earn a living to support her sons with Nida -- Ayden, 4, and Dylan, 19 months.
Article continues below advertisement
Also on the episode, Kenya Moore told the cameras about her frenemy Leakes, "NeNe gets Botox all the time. She talks about it -- Botox, fillers, nose jobs, breast jobs, liposuction -- you name it, she's had it done."
And all of that hasn't gone to waste as viewers saw Leakes fielding three Broadway offers from her agent, Steven, to perform in Chicago, Rock of Ages or Cinderella. Steven urged her to do Cinderella even though Leakes was reluctant.
Also, Bailey and her husband Peter Thomas were shown selecting a new location for their restaurant, Bar One, which has been plagued with problems.
The couple was eager to get a fresh start and Bailey was fine with financing it.
Later, at Burruss' sex and relationship party, Dr. Rachael Ross wanted to strap Leakes and Bailey together in a bizarre bonding/bondage game but Leakes, still wary of Cynthia, refused.
"I choose to not be tied to your a**," Leakes told the cameras.
Instead, Leakes and Claudia Jordan were awkwardly tied together, after, as RadarOnline.com previously previewed, the two had a confrontation.
During a relationship discussion, Jordan revealed to the ladies that she had been married briefly, while Porsha Williams claimed she was in a long-distance relationship.
Jordan told the cameras Williams' boyfriend was from Nigeria "and he's got twenty other Porshas -- and I don't mean the car."