Time Heals All Wounds? Not Between Ann Curry & Matt Lauer, Three Years After 2012 'TODAY' Controversy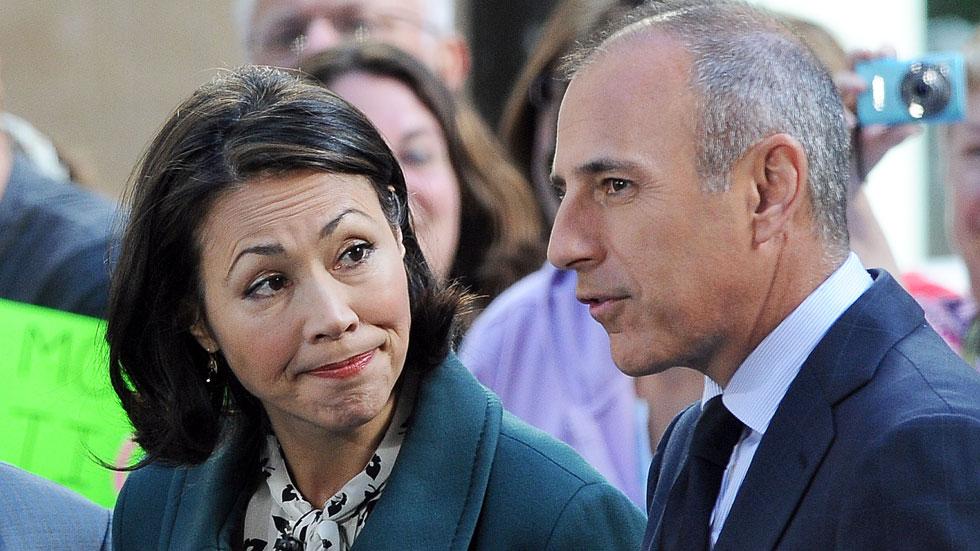 Ann Curry, exiting NBC after 25 years, "never made up with" Matt Lauer after her June 2012 demotion from the TODAY show, as the uncomfortable situation left hard feelings on both sides.
Curry still "believes Matt played a major role in her downfall," an insider told the NY Post of her exit from NBC's morning juggernaut after 14 years with the show.
Curry, who was replaced by Savannah Guthrie, famously gave a heartfelt speech on her last day in the gig, telling viewers, "This is not as I expected to ever leave this couch ... I'm sorry I couldn't carry the ball over the finish line but, man, I did try."
Article continues below advertisement
The bad blood flows both ways, as Lauer continues to believe "the way she handled it made him look terrible," as the anchor's image took a beating in the wake of the awkward parting.
As RadarOnline.com previously reported, Lauer is "relieved" that Curry is leaving, as an insider said that "it has been an albatross around his neck" for two-and-a-half years.
The 58-year-old Curry came to an agreement with the network to end her $12 million annual contact after her on-camera appearances had dramatically dwindled in recent months, her last one coming Dec. 1.
"Ann has been unhappy that NBC wasn't using her enough," an insider told the paper, "and NBC News chiefs were frustrated that she had this huge salary while rarely appearing on air."
The Peacock Network said that the veteran journalist will occasionally appear on platforms "seeded" by the company.
NBCUniversal News Group chairman Pat Fili-Krushel said, "We're proud to support Ann in her new venture, and we look forward to more of her exceptional storytelling. She is committed to uncovering critical issues, humanizing them, and ultimately helping viewers understand and connect."
Curry said in a statement Tuesday, "This is about reaching for the edge of the future in journalism. I am excited about working to become a valuable link between traditional media and what is to come."
She added that "it has been a privilege to work with so many good and talented people at the network."