Exclusive
More Diva Demands! 'Long Island Medium' Theresa Caputo Only Sleeps On Luxury Mattresses, Refuses To Personally Tip Drivers On Tour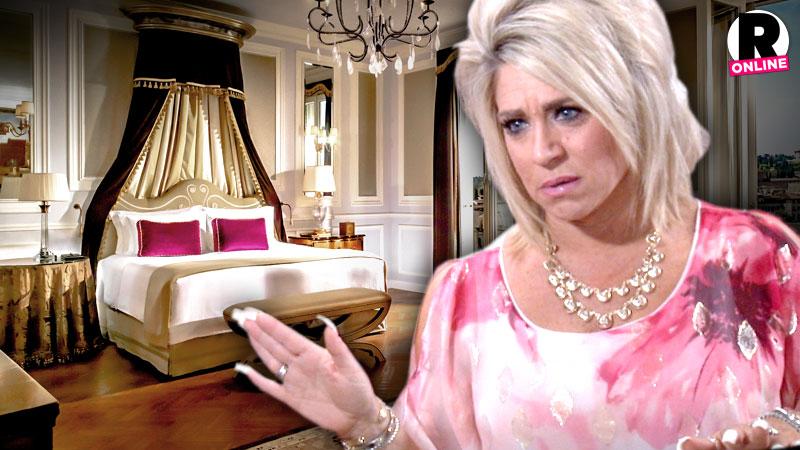 Theresa Caputo claims to have a powerful sixth sense— but it also seems she has a serious superiority complex.
RadarOnline.com can reveal that the Long Island Medium reality star, who insists she uses her psychic "gift" simply to "deliver healing messages" to those grieving the loss of loved ones, demands the royal treatment while traveling the county for her Theresa Caputo Live! The Experience tour.
Article continues below advertisement
"She and her entourage only fly first class, and she even refuses to fly on certain airlines," a source close to the 48-year-old self-proclaimed medium exclusively tells RadarOnline.com, adding that her taste for accommodations is even more high-end. "She refuses to stay in anything but brand new, five star hotels. She hates older properties. And she will only sleep in the king or presidential suite."
But her high-maintenance doesn't stop at the bed's size.
"She will only sleep on Tempur-Pedic mattresses," the insider says.
And when she leaves the hotel grounds, the TLC star, who as RadarOnline.com reported, never steps out in public without full hair and makeup and a fresh spray tan, expects local runners to know the best manicurist, acupuncturist and massage therapist in town just in case she needs a pampering service on a whim.
Though the local runners are paid minimally, "she expects them to drive her around in a late model SUV to appointments," the source claims. "Assistants have to call ahead of time to make sure the car meets her standards. She can't be seen in a Camry!"
Article continues below advertisement
While Caputo is often seen chatting with everyone from construction workers to waiters while out and about on her popular show, the insider reveals she ignores service people off camera.
"She doesn't give tips to bellmen or drivers," says the insider. "She has an assistant do it. She believes handing someone money is beneath her."
As RadarOnline.com exclusively reported last summer, the Hicksville, New York mother of two has been accused of botched readings and rude behavior by grieving fans and clients. But she still expects to be treated like a superstar when she enters a venue before a performance.
"Her rider is unbelievable," the source says. "She insists on having lots of fresh kale and deli meats— but only if the brand is Boar's Head. She's extremely particular about food. If something isn't up to her standards, she throws a huge temper tantrum!"
"She always says she just wants to help others. But in reality, she's only interested in herself."