Exclusive
Let The Dirt Fly! Kesha Wants Secrets Made Public In Dr. Luke Sex Abuse Suit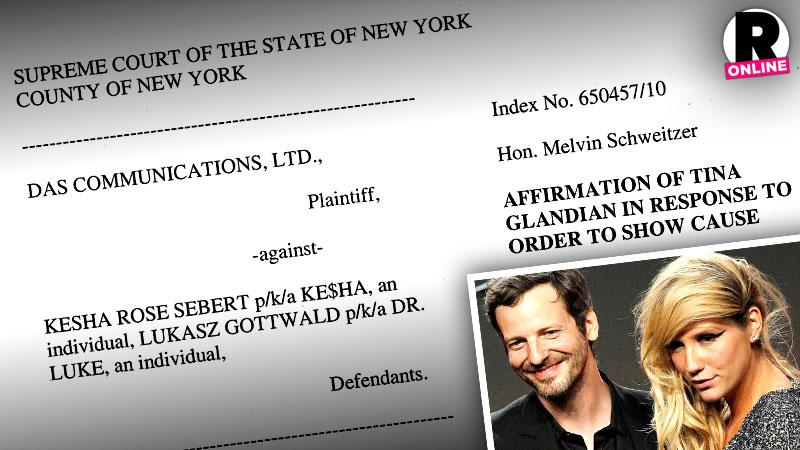 All of the secrets of the allegedly abusive relationship between Kesha and Dr. Luke could become public soon if a judge accepts Kesha's demand to unseal sworn testimony in a previous case, RadarOnline.com has learned.
Kesha is asking the judge who released her secret testimony in November to make Luke's transcript public too so the world can hear details of his alleged "sexual and drug-related abuse" of the "We R Who We R" singer, a filing by her lawyer says.
Article continues below advertisement
Kesha (born Kesha Rose Sebert), is suing Dr. Luke (Lukasz Gottwald) to get out of her contract with him. She claims he allegedly sexually and emotionally abused her over a decade, drugging her, threatening her and even calling her a "fat f*cking refrigerator."
Luke's lawyers countered in November by releasing portions of Kesha's deposition in another court case in which she swore they never had "an intimate relationship" and that he had never given her "coke or drugs" or "a roofie."
"The court should also declassify the testimony of other witnesses who were deposed and who testified as to the subject matters that … are in the public domain now, namely Mr. Gottwald's sexual and drug-related abuse of Kesha," her lawyer said in a court filing.
Kesha's motion suggests Luke wouldn't like what gets released, but it blames him for letting the dirt fly. "Because Mr. Gottwald has voluntarily put these subject matters in the public domain, his previous testimony on these subjects is no longer confidential," the documents state. "The testimony of various other witnesses may also be relevant to these allegations."
Article continues below advertisement
"If the court is inclined to declassify the deposition transcripts of Kesha Sebert and Pebe Sebert, we ask that the court also declassify the deposition transcripts of Lukasz Gottwald, taken on November 3 and 4, 2011," the papers assert.
Kesha claims the decade of alleged abuse led to her eating disorder and landed her in rehab.
Dr. Luke not only denied all claims made by Kesha, but his lawyers filed a countersuit demanding that she pay for damaging his reputation with "scurrilous and false statements of purported physical and mental abuse."