Kenya Insists Phaedra 'Holds All The Cards' While Apollo's In Prison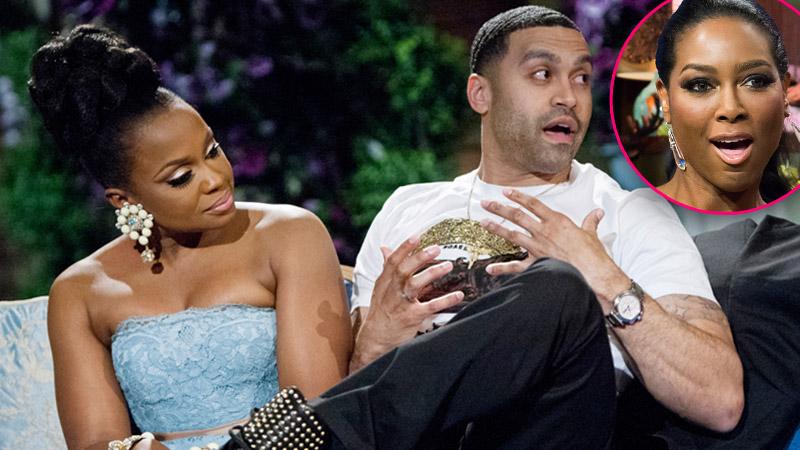 Kenya Moore's not taking it any more.
In a new post on her Bravo blog, the Real Housewives of Atlanta star insists that despite what Nene Leakes believes, there's no way Apollo Nida made up cheating rumors to hurt his wife, Phaedra Parks.
"Firstly, I am the last person to attempt to understand how Apollo's mind works," writes Moore, 43. "But if I were going to prison for eight years and my only lifeline is my wife, why would I try to hurt her? Phaedra has his sons, who he desperately wants to see."
Article continues below advertisement
As RadarOnline.com reported, Parks allows her boys with Nida, Ayden, 4, and Dylan, 1, to be in touch often with their dad, but they haven't been allowed to see him behind bars — yet.
Nida, 36, is currently serving time for fraud in a Kentucky correctional institution.
"Phaedra lets the boys talk with their father anytime and every time he calls," Parks' rep Steve Honig told RadarOnline.com exclusively.
"Phaedra also has the boys write him letters and draw him pictures, which she sends to him," Honig continued. "She goes out of her way to enable the boys to communicate with their father, and anyone who says otherwise is lying."
Moore notes that besides the children, Parks, 41, is responsible for Nida's affairs and that "she can make his life more comfortable while incarcerated."
"Therefore, she holds all the cards," adds Moore, "In my opinion, his wife would be the last person he would try to hurt now."
Moore's feelings for Nida are crystal clear, but as for all the other RHOA haters? She's got a message for them, too:
"Unfortunately, the women on this show have tried to paint me as a crazy, drunken, delusional, wanton hussy and liar, none of which I am," says Moore.
"What I am is a woman who has made mistakes and will continue to do so as I grow. What I am is a woman who doesn't want to hurt families or break up happy homes. What I am is someone who is strong. What I am is a woman who will continue to be an eternal optimist and pray for those who try to harm me. What I am is not a victim. What I am is human."