Back To Booze? Johnny Depp Off The Wagon & His Ex Thinks Fiancée Amber Heard Is To Blame, Claims Source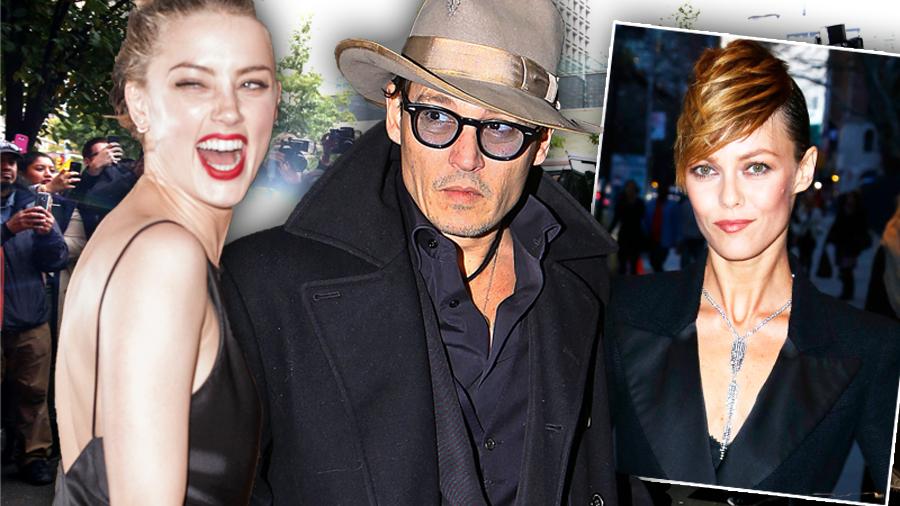 Johnny Depp is back on the bottle, according to a new report in The National ENQUIRER, and his ex -Vanessa Paradis allegedly blames his fiancé Amber Heard for his sudden relapse!
Depp said last summer that he'd been sober for nearly 18 months after deciding to break the boozing habit. But on Nov. 14, Depp, 51, took the stage at the Hollywood Film Awards and appeared to be intoxicated, cursing up a storm and slurring his speech.
Article continues below advertisement
The insider told The ENQUIRER that Paradis, 41, "was horrified by his boozy behavior at the Hollywood Film Awards and blames Amber."
"Watching him slurring and swaying was a nightmare for her," the insider said.
"It burns Vanessa to see him making such a fool of himself," the insider told the magazine. "She blames Amber for his mid-life crisis. … Vanessa's convinced Amber's not mature or tough enough to deal with Johnny's drinking."
As RadarOnline.com reported, Depp and his current flame's engagement is in "turmoil" as sources say that Heard "is not ready to settle down."
The Pirates of the Caribbean actor told Rolling Stone magazine last year that he stopped drinking because alcohol caused problems in his life. Although he was sober for a year and a half at the time, he insisted that he was not an alcoholic.
"No. I don't have the physical need for the drug alcohol," he said. "No, it's more my medication, my self-medication over the years to calm the circus. Once the circus kicks in, the festivities in the brain, it can be ruthless."
For more on the claims about Johnny's drinking, pick up the latest issue of The ENQUIRER, on stands now!