Johnny Depp Breaks Silence On 'Unpleasant' Breakup With Vanessa Paradis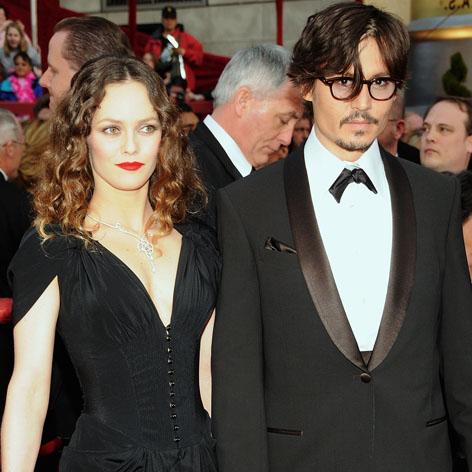 Johnny Depp's shocking split with Vanessa Paradis after 14 years and two children together was "unpleasant" he says, for the first time addressing the breakup that RadarOnline.com first reported.
The Lone Ranger star, 50, opened up about the painful breakup, saying "The last couple years have been a bit bumpy," after calling it quits with the French actress and the mother of his children.
"At times, certainly unpleasant, but that's the nature of breakups, I guess, especially when there are kiddies involved," Depp told Rolling Stone magazine and said being an actor puts an added strain on the situation.
Article continues below advertisement
"Relationships are very difficult. Especially in the racket that I'm in because you're constantly away or they're away and so it's hard. It wasn't easy on her. It wasn't easy on me. It wasn't easy on the kids. So, yeah. The trajectory of that relationship -- you play it out until it goes, one thing leads to another."
As RadarOnline.com previously reported, Johnny and Vanessa separated in early 2012 but they continued to deny the split for months. He did not address his relationship with Amber Heard in the interview.
Johnny said he will always have a connection to the Café de Flore star because of their two children Lily Rose and Jack Depp
"So for whatever reason that ­ceases, it doesn't stop the fact that you care for that person, and they're the mother of your kids, and you'll always know each other, and you're always gonna be in each other's lives because of those kids. You might as well make the best of it."
Despite his friends worrying about him during the beginning of the breakup, Depp says he was more under control this time than with previous relationships ending.
"In terms of the breakup, I definitely wasn't going to rely on the drink to ease things or cushion the blow or cushion the situation," he said.
"'Cause that could have been fatal. I felt it was my duty to be real clear throughout that. I had something pretty serious to focus on, really, which was making sure that my kids were gonna be cool."