Exclusive
Not Again! Yet Another Racist Reference & Angie Slam Revealed In Sony Chief Amy Pascal's Emails After Obama Slur — Will Her Career Survive?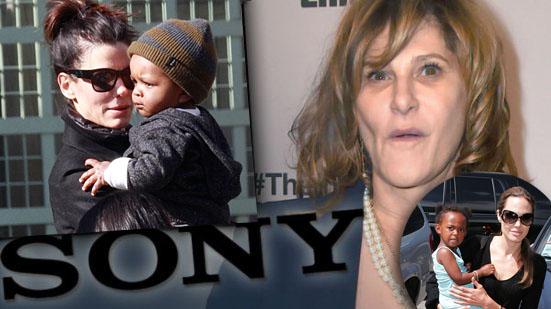 Article continues below advertisement
According to emails, Pascal wrote the term while trying to soothe the hurt feelings of Sony Television President Steve Mosko, who was offended that he was not told about a major TV deal that Sony was about to announce last July. Mosko wrote to Pascal that he only learned about the deal when asked to review the news release.
"Once again, this will cause major confusion in the television group because he has never talked to me or anyone else in our group and I will have to be on the defensive with my own team and not sure what to say to outside world …" Mosko wrote.
Pascal replied that the deal was primarily about feature films "but like everyone with half a brain these days television is the thing they want to do."
She told Mosko he just was "not used to TV being the new black baby" — an apparent reference to the recent trend of Hollywood celebs adopting black children, including Sandra Bullock, Charlize Theron, Steven Spielberg, Madonna, Nicole Kidman and Tom Cruise.
Article continues below advertisement
But a source close to the studio insisted it was not intended to be racist and labelled claims to the contrary "ridiculous."
"She was making an Orange is The New Black reference and like anybody else could have, left out the comma in the middle of writing a quick email filled with shorthand and abbreviations," the insider said.
Many cyber security experts point to North Korea's anger over Sony's upcoming movie The Interview, a comedy about an assassination plot against that country's dictator, as the source of the massive hack attack.