Exclusive
Amber Portwood's 43-Year-Old Boyfriend Is A 'Teen Mom' Super Fan On Twitter— He SLAMMED Her Frenemy Jenelle Evans For Years!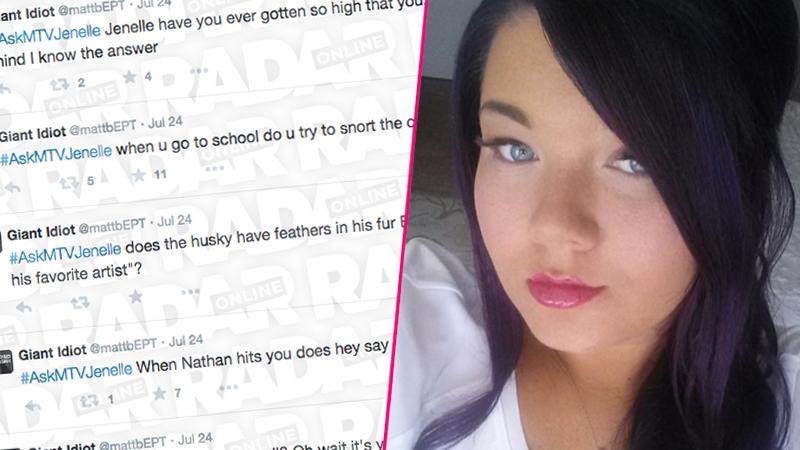 Amber Portwood always expresses her love for her fans— but it seems that she's fallen in love with one of them!
RadarOnline.com can reveal that the Teen Mom star's much older new man, Matthew Baier, 43, was a die-hard devotee of his 24-year-old girlfriend's MTV reality show long before they even met.
He live tweeted under the handle #mattbEPT while watching Teen Mom 2 through all of seasons 5A and 5B.
Article continues below advertisement
"Who cares about @ChelseaHouska she's normal!! Get to @PBand Jenelly_1 we need the trainwreck!!! #teenmom2reunion," he posted on April 22, 2014.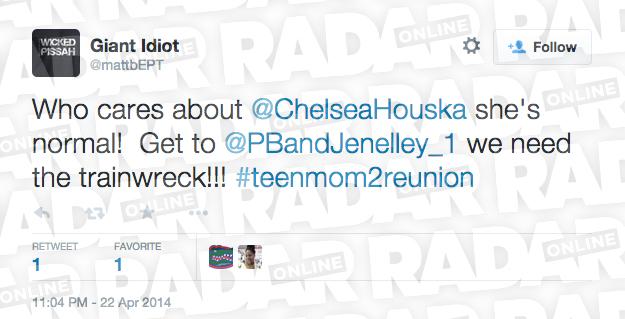 As RadarOnline.com has reported, Baier and Portwood, the mom of 5-year-old Leah, began dating in October.
The Boston native, a father to a young son and daughter, is especially obsessed with bashing Teen Mom 2 star Jenelle Evans, 22, who suffered from addiction issues before getting clean in 2013.
"Only 60 minutes until @PBandJenelley_1 makes even Americas worst moms feel good about themselves," he tweeted in April before a new episode aired.

Baier has tweeted about Evans and her boyfriend Nathan Griffith hundreds of times over the past year, slamming their parenting skills and history of substance abuse. (Evans has confessed to abusing heroin in the past; Griffiths admitted to drinking too much at times after being arrested for a DUI.)
Article continues below advertisement
"All the TM's write books. What shd @PBandJenelley_1 be called. I suggest 'Drugs before Hugs - my life as a Trainwreck' #nameJenellesbook," he tweeted on August 30.
"Poll: if u were on a sinking boat with @PBandJenelley_1 and a cockroach who would you save?" he asked followers on April 27.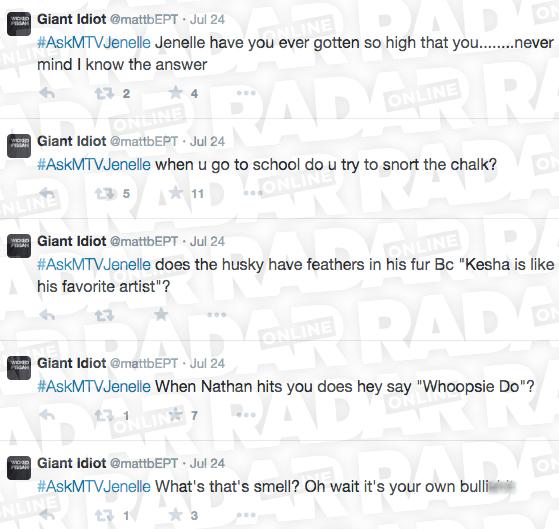 "When u go to school do u try to snort the chalk?" he asked the recovering addict, who is currently studying to become a surgical assistant.
While Portwood and Evans publicly feuded on Twitter earlier this year, they patched things up during Dr. Drew Pinsky's "Ask The Moms" special in October.
However, Portwood has always been close friends with Teen Mom 2 star Kailyn Lowry, 22. The reality stars even paired up for a cross-country book tour
in September.
But even Lowry wasn't safe from Baier's wrath.
"What was the topic of Kailyns book? How to bang ugly dudes, cheat in a shower and have my face always look like I'm allergic to shellfish?" he wrote about the Pride Over Pity author on July 15.
Article continues below advertisement
"Kailyn's face breaks my TV," he tweeted on July 16.

Before he began courting Portwood, he even threw shade at her in a July tweet.

"How bad is JE? Farrah does porn, Amber beat her man, Leah cheated, Chelsea is orange Kailyn looks like a frog and Jenelle trumps them all!" he wrote, clearly referring to Portwood's 2010 arrest for battering baby daddy Gary Shirley, 27.
Fortunately, Baier seems to have changed his ways. Perhaps at Portwood's urging, he stopped tweeting completely in early October.
Should Amber be concerned about her boyfriend's Twitter history? Sound off in the comments.