Exclusive
Amber Portwood's Secret Boyfriend Revealed! Teen Mom Dating MUCH Older Man With Criminal Record: DUI, Assault, $25K Tax Lien & More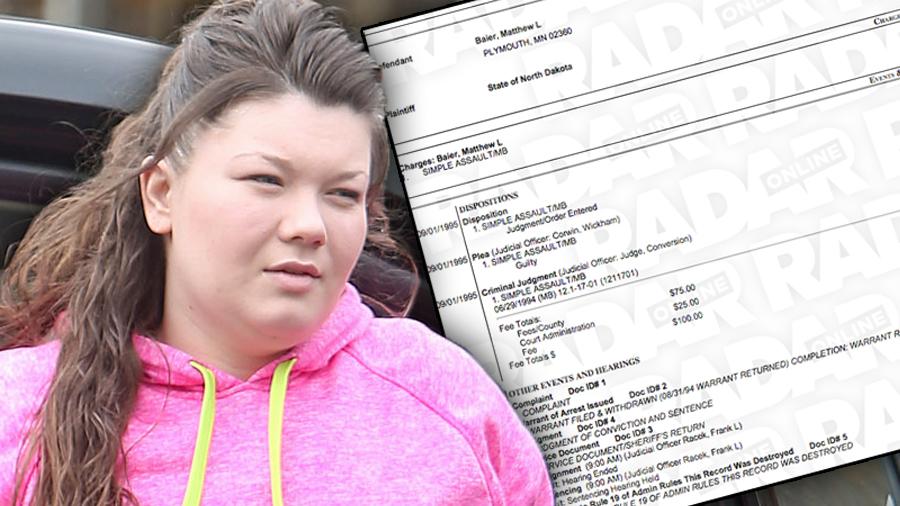 Amber Portwood has been tweeting about a mystery boyfriend for the past two months, even showing off matching tattoos to her fans and bragging about their romantic getaway to Las Vegas.
Now RadarOnline.com can exclusively reveal that the Teen Mom star, 24, is dating Matthew Baier, a Boston native 19 years her senior.
Multiple sources tell RadarOnline.com that the couple has been serious for about three months, and that the doting mom of Leah, 5, is "obsessed" with keeping his identity a secret.
Article continues below advertisement
And there seems to be good reason to keep his name under wraps, because RadarOnline.com has discovered that the divorced dad has a dark past full of arrests and serious financial woes— which could risk recovering addict and former prisoner Portwood's new sober, law-abiding life.
In November 1991 — when Portwood was just an infant — Baier was arrested for issuing checks without funds in North Dakota's Cass County Court. After pleading guilty, his sentencing was deferred for three months. A court spokesperson told RadarOnline.com that records offering sentencing details have been destroyed.
In October 1992, Baier pled guilty to driving under the influence of alcohol or other drugs and driving without liability insurance. According to the court spokesperson, he was sentenced to 30 days in jail.
Two years later, he pled guilty to simple assault, or willfully causing injury to another person. The court no longer has records of his sentencing.
In 1995, he was once again charged with issuing checks without funds, though the case was ultimately dismissed.
Article continues below advertisement
The legal trouble didn't end there. Twelve years later, Baier was issued a federal tax lien in Massachusetts for a shocking $28,543. The lien was ultimately discharged in 2008.
Portwood, who admitted to struggling with prescription drug addiction and suicide attempts in her memoir Never Too Late, has turned over a new leaf since leaving prison in November 2013 after 17 months behind bars on drug possession charges.
"The one thing about an addict is that there's so many temptations and if you know your temptations, you stay away from it," she told RadarOnline.com in August. "And I'm not about to put myself in that position right now until I feel like I am completely ready."
Hopefully, the MTV reality star won't be steered down the wrong path. As RadarOnline.com previously reported, she's currently gearing up to file for joint custody of Leah, as her ex, Gary Shirley, has cared for their daughter since Portwood left for prison in 2012.