Exclusive
Adam Lind's Ex Brooke Beaton Files For Restraining Order: 'I Am Very Scared For My Safety'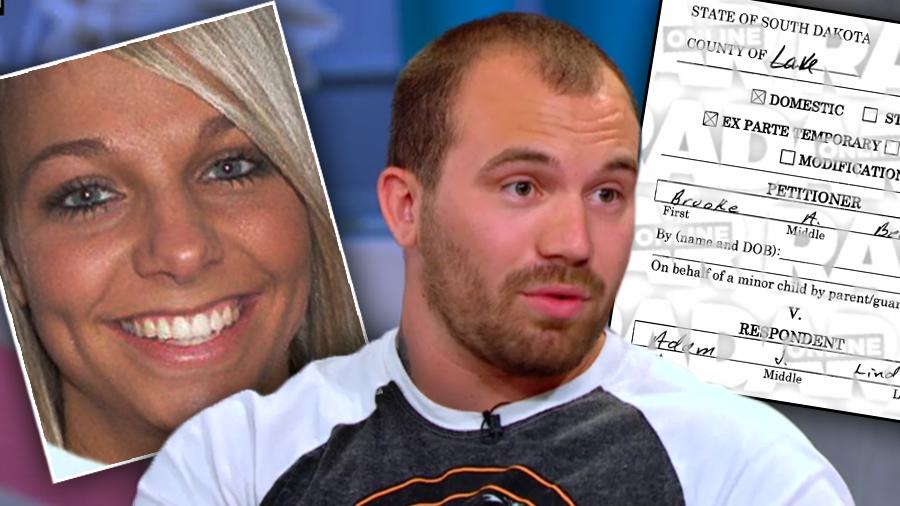 Friends of Adam Lind may tell RadarOnline.com that the Teen Mom 2 dad's ex is making outrageous accusations against him— but Brooke Beaton insists the MTV reality star is dangerous and violent.
RadarOnline.com can exclusively reveal that Beaton, 26, has filed a restraining order against Lind, 25, in Lake County, South Dakota.
"He has a very bad temper," the mom of two tells RadarOnline.com.
In South Dakota court documents, Beaton says Lind attacked her at the Swiftel Center in Bookings while watching her son Tayvin, 7, race dirt bikes on Friday, November 28.
Article continues below advertisement
READ THE SHOCKING COURT DOCUMENTS
While leaving the venue, she claims Lind approached her from behind.
"Adam grabbed me by the back of the arms and threw me to the side," she writes, adding that he knocked the person in front of her down a flight of stairs. "By the time I got down the stairs, he was gone. He took off running."
She also alleges Lind "threw her against a wall and punched a hole in the closet door" of their home in an October 19 incident.
"Adam has been violent often in the past few months," Beaton says. "Adam has threatened to kill my family and is also contacting my family on Facebook and also via phone/text. There were multiple times he threatened me."
"I am very scared for my safety and for my children's safety."
In the court papers, she says she spent three hours filing a report with the Sioux Falls Police Department.
"They gathered information and took pictures of the bruising on both my arms," she claims.
Article continues below advertisement
The court ordered Lind to stay at least 100 feet away from Beaton and her son Tayvin and daughter Londynn, 5, in a temporary order of protection.
"I…have two children who are very afraid of Adam," she writes.
Lind is due in court for a hearing on December 15.
As RadarOnline.com exclusively reported this morning, the father of reality star Chelsea Houska's daughter Aubree, 5, was jailed on domestic stalking charges last night.
A friend claimed the arrest stemmed from a bitter breakup.
"Brooke was so furious, she called the police and made untrue accusations against him," the source continues.
In October, Lind's ex girlfriend Jessica Nicole claimed he got physical with her during their three-month relationship.
For more on this breaking story, keep reading RadarOnline.com Online.