Exclusive
Shocker! Adam Lind's Ex-Girlfriend Accuses 'Teen Mom 2' Bad Boy Of Violence & Steroid Abuse: Baby Mama Chelsea Houska 'Very Concerned' About Allegations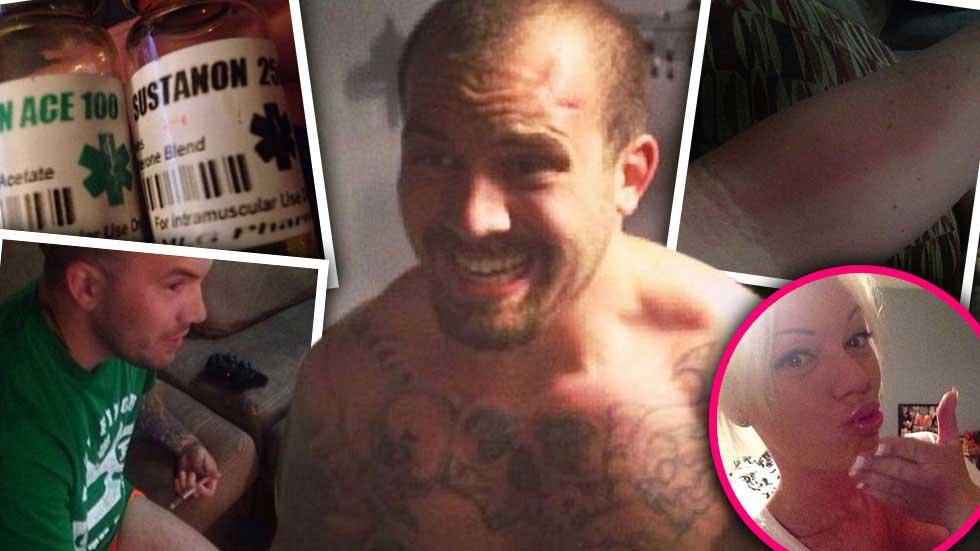 Article continues below advertisement
In one, Lind appears to be injecting himself with a hypodermic needle. Another photo captures a bottle of Systanon 250 and another containing Tren Ace 100, both anabolic steroids and controlled substances. (The 23-year-old does not appear in latter picture.)
http://instagram.com/p/uHE7GiIVfV/?modal=true
Sources exclusively told RadarOnline.com in May that the father of Aubree, 5, (with ex Houska) and Paislee, 1 (with former girlfriend Taylor Halbur, 24)— who has been arrested countless times and last left jail on October 5— was using anabolic steroid Dbol without a doctor's prescription. An insider close to Lind denied he used steroids.
In two other photos, Nicole reveals two bright red, bruised arms.
"Those are my arms after Adam thought it was cool to put his hands on me," Nicole wrote to a fan.
"He threatened me with saying he would tell people I was a porn star, or he caught me stripping in Omaha," she continued. "He's threatened to make up a whole bunch of stuff about me now!"
Last week, Nicole also accused Lind of getting physical during their 3-month relationship.
Article continues below advertisement
"I LEFT HIS VIOLENT A**!" she told followers on October 9. "He has physical and mental abuse issues…BAD!"
She also says Lind, who claims to be sober, was drinking before a recent driving-related arrest.
"Now let's be honest…You WERE drinking. You had 2 beers and they didn't test you for hours. That's the ONLY reason you blew all 000," she claims.
When contacted by RadarOnline.com, Nicole called her ex "scary" and "dangerous."
"He's grabbed me by the neck, thrown me around, all kinds of stuff," she told RadarOnline.com. "I have a different boyfriend and really wish I never met Adam. I just want this to go away."
Friends close to MTV reality star Houska, 23, say she's appalled by Nicole's allegations.
"Chelsea is very concerned about Adam's behavior," says an insider. Adorable Tee-ball champ Aubree visits her father every other weekend at his parents' home— though RadarOnline.com has reported that Houska is looking to "reevaluate" their current custody agreement.
"Chelsea is Aubree's mother and of course she's going to protect her," a source told RadarOnline.com in August.