That Was Fast! 'Teen Mom 2' Star Adam Lind Moves On From Second Baby Mama Taylor Halbur With Sexy Single Mom Jessica Nicole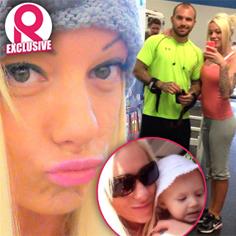 He may have quite the rap sheet, but bad boy Adam Lind never stays single for long.
The father of Teen Mom 2 star Chelsea Houska's daughter Aubree, 4 — who just split from Taylor Halbur, the mother of his 9-month-old daughter, Paislee, in late April — has jumped into a serious relationship with fellow Sioux Falls, South Dakota, native Jessica Nicole.
According to mother-of-one Nicole's Facebook page, the couple entered a relationship on May 15, 2014— just weeks after his shocking breakup from Halbur, 24.
Article continues below advertisement
"It's not too often that someone comes into your life and makes you feel like a different person. A better, happier person," Nicole posted about Lind, 23, on June 19. "I feel blessed to have you in my life. You are a great man!"
The couple is not only busy posting loved-up selfies on social media— they've already moved in together!
"First dinner together at home!" Nicole gushed on June 19, posting a photo of Lind noshing on Chinese take-out.
As RadarOnline.com previously reported, Halbur kicked Lind out of their apartment soon after their split.
Nicole, a mother of one boy, also has warmed up to Lind's youngest daughter, Paislee.
"My boo's baby is the best, she's so sweet!" Nicole captioned a cute Instagram photo on June 15.
http://instagram.com/p/pSKyL2kJKU/
Hopefully Nicole already knows about Lind's checkered past: The MTV reality star was arrested and jailed in May for driving with a revoked driver's license, and narrowly escaped death when his car burst into flames after he collided with a car driven by an elderly couple in February. According to Sioux Falls local news, Lind was arrested for his third DUI last March, and has been found guilty of speeding six times.