Exclusive
All The Details Behind 'Teen Mom 2' Star Adam Lind's Breakup With Baby Mama Taylor Halbur: Taylor Kicked Him Out After Catching Him 'Talking To' Multiple Girls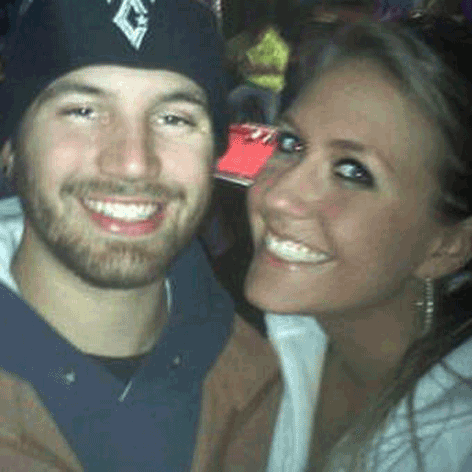 Months after Teen Mom 2 star Chelsea Houska's ex, her baby daddy Adam Lind dumped his second baby mama, Taylor Halbur, the drama between the recent exes has continued to brew.
Halbur and Lind broke up shortly after she found out that he had been carrying on relationships with several other women.
"They're not together," a source close to the situation told RadarOnline.com. "He pretty much just went home one day and started saying how he was just unhappy and how he didn't feel like Taylor was there for him and that he was going to leave."
Article continues below advertisement
After that happened about six weeks ago, Halbur discovered that Lind had been talking with other girls while they were together.
PHOTOS – Check Out Adam Lind's Shameless Gym Selfies!
"Taylor went into his Facebook and he was already talking to two other girls," the source said. "And then Taylor told him to get out and leave."
Cheating had been a common theme in Lind and Halbur's relationship.
"All through out their relationship he was for the most part with Chelsea and a few other girls," the source said.
Towards the end of their relationship, it seemed like Lind had changed his tune and was acting like a devoted boyfriend — but then in February he was involved in a massive car crash and everything changed.
"The last four or five months, they were really good," the source said. "Adam had a job and was doing treatment. He was sober for like 9 months. And then his accident happened and he became different."
Article continues below advertisement
Several weeks after their split, Lind had a change of heart and attempted to win Halbur back.
"The last few weeks, he wanted to talk to Taylor, so she did," the source said. He called Taylor and told her he'd ended it with another girl and said, according to our source, "I want my family back.'"
The two started hooking up again, and slept together as recently as three weeks ago, the source confirmed.
After attending a counseling session together a few weeks ago for Lind's court mandated treatment as a result of his DUIs, "he was different and didn't want to hang out with Taylor," the source said. "He was making excuses and going through a phase where he hated Taylor for no reason."
Fortunately for Lind, Halbur was still there for him when he was busted in May for driving on a suspended license and she even picked up from jail even though they were no longer together.
Article continues below advertisement
But despite Halbur's act of kindness, she has no interest in taking him back right now.
"Taylor wants it to work out for her family and their daughter Paisley, but he's just so back and forth," the source said.
Still, Halbur allows Lind to see their daughter.
"He normally has her when Taylor is working," the source said. "She has been working two nights a week, so he will take her when Taylor is at work. Or if he just randomly asks for her, Taylor will let him have Paisley for a couple of hours."
So what's in the future for this broken family?
"If he got his act together Taylor would maybe consider taking him back," the source said. "If he could get to a good point and make it stick, I think she would. But it would take a long time."
For now, Lind is currently "living with a roommate," the source said.
And Halbur is still trying to come to terms with Lind's affairs.
All Halbur can do is hope that Lind will change and maybe one day they can reunite their family.