Exclusive
EXCLUSIVE INTERVIEW: Teen Mom Maci Says, 'No Future As A Couple' With Ryan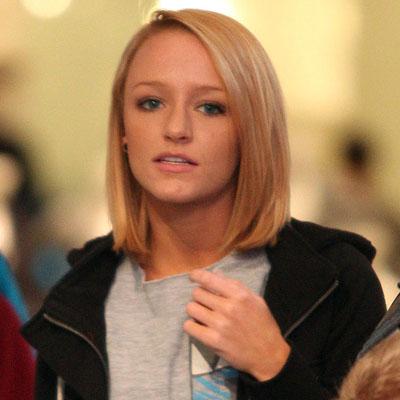 Teen Mom star Maci Bookout took time out from her busy life to speak exclusively with RadarOnline.com about the men in her life- her son Bentley, boyfriend Kyle King, her son's father Ryan Edwards -- as well as finding 'something' for herself.
Read below as the 19-year-old star of the hit MTV reality show answers all of RadarOnline.com's burning questions.
You left your parents and started over with Bentley in a new city when you fell in love with Kyle. Do you feel you made the right choice?
Article continues below advertisement
"Yes, I do. I did it for two reasons. One, I wanted Kyle and I to be in the same place. Two, I wanted to be on my own and learn about myself and Bentley and even if Kyle and I hadn't worked out it would have been worth it."
Are your parents more accepting of your move now that some time has passed?
"Yes, when I told everyone I was moving they thought it was going to be a bigger deal that it was but they understand why I did it now."
You gave up days with Bentley so he could have more time with his father. How do you deal this time away from him?
"Try to keep busy, relax and sleep."
Do you feel that Bentley spending more days with Ryan will be better for his future?
"I do. That's the main reason why I gave Ryan an extra day! I want Bentley to spend time with his dad because he can learn so much from him. I also don't want him to grow up being like, 'I never got to spend time with my dad.'"
Article continues below advertisement
EXCLUSIVE: Teen Mom Maci Bookout Confesses, 'My Biggest Fear Is Losing My Son'
Are you still concerned that the push to get more days with Bentley came from Ryan's parents?
"I think Ryan wants that time as much as his parents do. Ryan's parents and Ryan both wanted that day as a whole."
Is it true you got back together with Ryan? Is there a future for you?
"No. There is a future with us as co-parents but not a future for us as a couple."
Tell us about your relationship with Kyle?
"Kyle and I are best friends and we are there for each other. It's nice to know someone is there for you no matter what."
You are so busy with school, work and a baby... How do you do it? Tell us your daily routine.
"It's easier for me to get things done when I have a lot to do. My daily routine is wake up, feed Bentley, play, school, come home, 30 minutes to relax, play dirt bikes and trucks, eat dinner, play more, take a bath and sleep."
Article continues below advertisement
Do you think about marriage? Or another baby?
"Definitely want both, but not right now."
What are your biggest challenges today?
"Learning to slow down. I have been thinking that I need to grow up, get married and have more kids and I feel like I need to do this tomorrow but then I realize I don't need to and I am only 19 years old."
You have come so far. When you think about life two years ago, have your priorities changed?
"Not really. Bentley is still number one, then school and Kyle. But I need something for myself and I'm still trying to find that."
What's Bentley into these days?
"Everything and anything with wheels; like cars, trucks and motorcycles."
Has being on Teen Mom helped you get perspective on life?
"I don't know because I was 16 when this started and it feels like this has always been my life."
RELATED STORIES: