Exclusive
A Father's Heartbreak: Tom Hanks' Son Chet Secretly In Rehab For Cocaine Addiction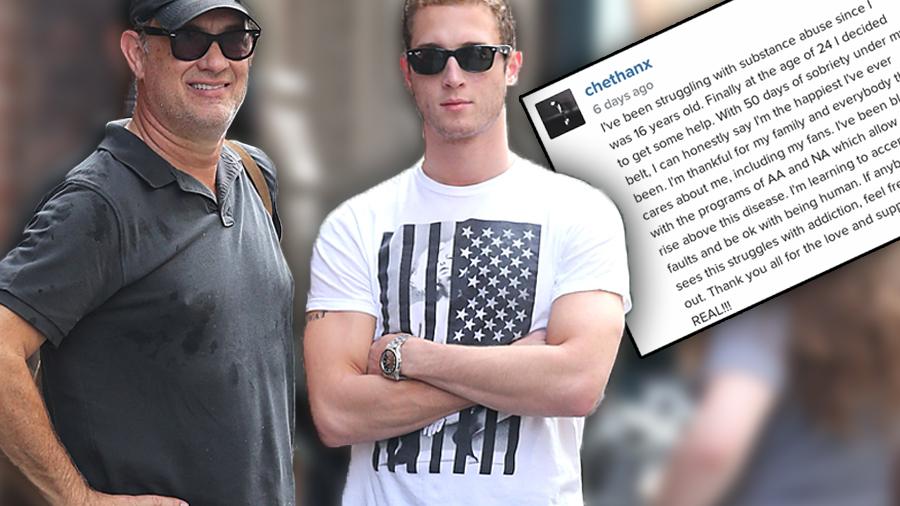 The son of Hollywood power couple Tom Hanks and Rita Wilson, Chester "Chet" Hanks was born into a life of privilege. But now, RadarOnline.com has learned, he and his parents are fight to save him after he almost threw it all away on a life of drug abuse. Chet recently admitted to years of substance abuse struggles following a secret rehab stay, and RadarOnline.com has all the shocking details.
"I've been struggling with substance abuse since I was 16 years old," he wrote in a bombshell post on Instagram on November 19. "Finally at the age of 24 I decided to get some help," and go to rehab.
Article continues below advertisement
"With 50 days of sobriety under my belt, I can honestly say I'm the happiest I've ever been," he continued. "I'm thankful for my family and everybody that cares about me, including my fans. I've been blessed with the programs of AA and NA which allow me to rise above this disease. I'm learning to accept my faults and be ok with being human. If anybody that sees this struggles with addiction, feel free to reach out. Thank you all for the love and support! GOD IS REAL!!!"
Chet made no secret of his drug use in recent years, frequently rapping about weed and alcohol under the stage name "Chet Haze." He insisted, "It's part of college life; I wanted to rap about something that I do. But I wouldn't say that's what my life is all about. … I'm not some caricature of a person who just drinks and smokes weed and parties all the time."
After graduation though, the party didn't stop. According to a new report in Star magazine, he recently turned to harder drugs.
Article continues below advertisement
"Chet developed a problem with cocaine this year," a source told the magazine. "He was always a big pot smoker, but I never thought he'd go in this direction, and to the degree that he had to spend time in rehab in California this fall."
"Of course, this was devastating to his dad and mom …" the source said, "but they've done everything they can to help him, and fully supported him in his decision to get sober."
For more on his addiction battle and his parents' fight to save him, pick up the latest issue of Star magazine, on stands now!