AUDIO: Tom Hanks' Son -- The Next Eminem?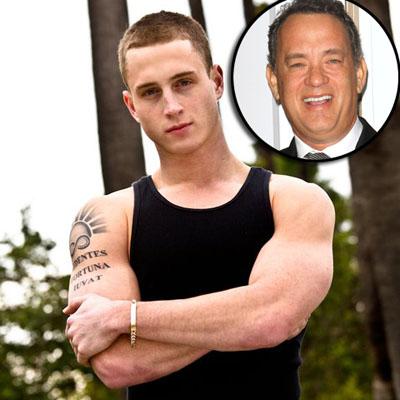 Meet Chester Marlon "Chet" Hanks.
The 21-year-old son of Tom Hanks and Rita Wilson is gaining steam on the Web for his hip-hop aspirations, as he raps about drugs, alcohol and girls in his new song "White And Purple," a take-off on Wiz Khalifa's "Black And Yellow."
Chet, a sophomore at Chicago's Northwestern University, said he didn't mean to ruffle any feathers with his lyrics.
Article continues below advertisement
"I don't think it's something that should cause anybody to be angry or offend anyone," Chet told his college paper, The Daily Northwestern, explaining that his music is based on college life.
He said that while he's proud of his family tree, he doesn't want to be tagged as "Tom Hanks' son," preferring to gain attention for his own exploits.
"Even though I know people will be talking about it, I don't want them to be absolutely focusing on that," Hanks told the paper. "I'm not my dad. I am my own person."