'A Wound Unmended': Khloe Kardashian Posts Regretful Quote On Instagram On Lamar Odom's Birthday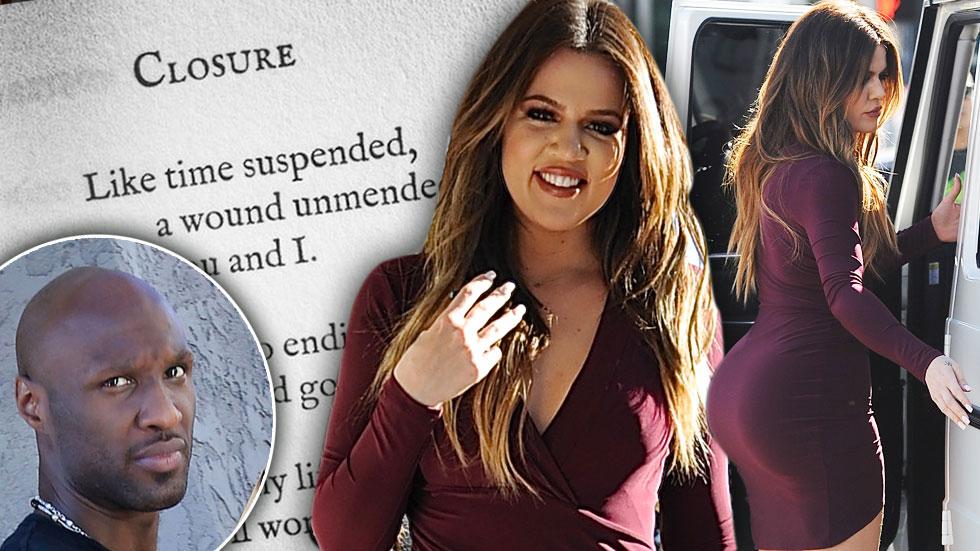 Khloe Kardashian's certainly moving forward, but that doesn't mean she doesn't look back every so often.
On Thursday, the youngest Kardashian sister posted a quote to her Instagram page on Thursday about lost love -- coinciding with ex-husband Lamar Odom's 35th birthday.
The quote from Khloe — who looked bootylicious in Los Angeles Thursday — read, "Like time suspended, a wound unmended — you and I. We had no ending, no said goodbye. For all my life, I'll wonder why."
Article continues below advertisement
The posting came in the wake of reports that the 30-year-old workout warrior is having issues tracking down the former L.A. Clippers forward to finalize the details of their divorce, which Khloe filed for Dec. 13, 2013. E! News has reported that the two have has sporadic contact with one another, but nothing behind that.
An insider told US Weekly that Khloe "seemed stressed" and "clearly was not in a good mood" filming the family's reality series Thursday, as she was seen "aggressively texting someone, and hardly looked up unless she was filming."
Since the split with Odom late last year, Khloe has lived relatively drama-free, as her fling with Moroccan rapper French Montana did not bring close to the same headache or heartache as the man she called "Lammy" used to.
Whatever the case is, the very posting of a quote might rankle her older sister Kim, who tweeted last month that "people who post lots of quotes have major issues."
Kourtney & Khloe Take the Hamptons airs on E! Sunday at 9/8c.