Exclusive
Calling It Off? Khloe Kardashian's Divorce From Lamar Odom Is Headed For Dismissal, Court Documents Reveal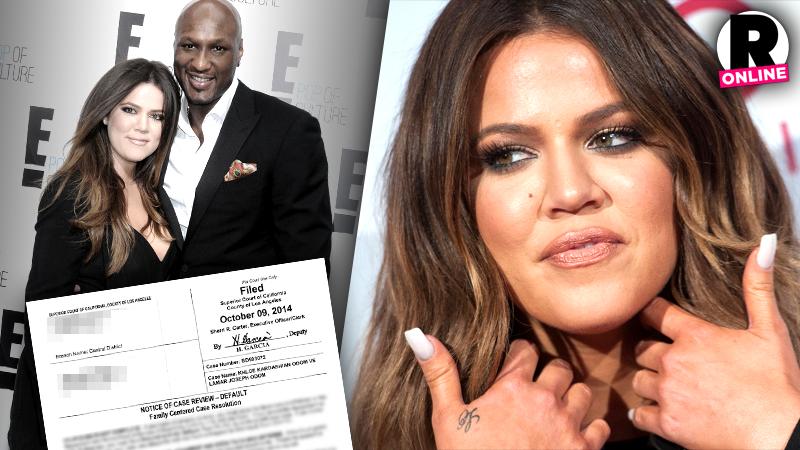 As the one year anniversary of Khloe Kardashian filing for divorce from Lamar Odom approaches on December 13, the reality starlet is hardly any closer to ending her marriage once and for all. In fact, RadarOnline.com has learned that a judge recently warned the Keeping Up with the Kardashians star that her case is headed for automatic dismissal — because the proceedings have gone on so long with no action!
Article continues below advertisement
Court documents obtained by RadarOnline.com reveal that on October 9, a notice of case review default was submitted by Judge Scott Gordon, notifying Kardashian that the divorce petition could be dismissed for failure to take any action in the case.
But that doesn't mean she's ready for a reconciliation.
According to a source, "Khloe has been told by her attorney, Laura Wasser, that she could file a motion to have the divorce granted, even though Lamar hasn't formally responded."
"Becoming legally divorced would allow Khloe to move on, while lawyers for the former couple hash out a financial settlement," the source said. "However, Khloe has held off on taking that drastic step."
CLICK HERE TO READ THE COURT DOCUMENTS
"She can never trust Lamar again, after being cheated on so many times, but she is becoming more and more despondent about her personal life," the source explained.
Article continues below advertisement
On-again, off-again, boyfriend French Montana "is only a fling," the source revealed. "Khloe has said she doesn't know if she will ever find true love again. It's truly sad."
Odom's birthday was on November 7, and Kardashian posted a cryptic message on social media.
His estranged wife posted a quote to her Instagram page, which read, "Like time suspended, a wound unmended — you and I. We had no ending, no said goodbye. For all my life, I'll wonder why."
The former couple "do talk on the phone sometimes, but there is no chance that they will ever get back together," the source said. "Khloe can't go back to that dark place, but just seems paralyzed with fear to move forward."
Watch: Lamar Odom Says Khloe Kardashian Is "Damn Near Perfect"