Exclusive
Fans Rally To Raise Money For Anna After Mama June Allegedly Swipes $30K From Trust Fund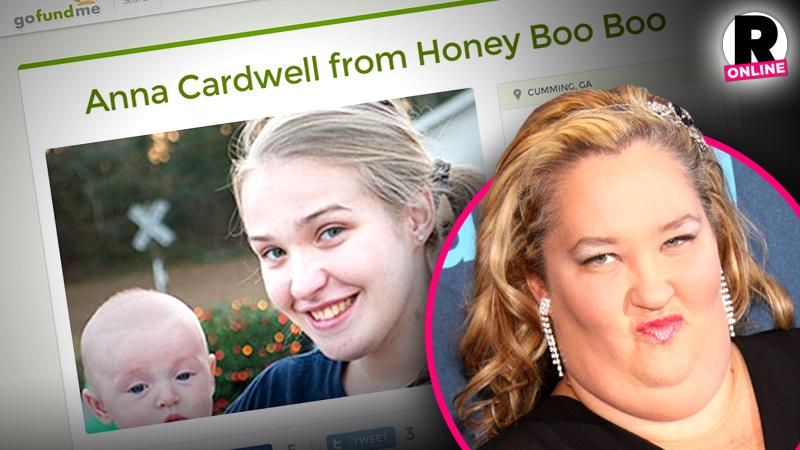 In an explosive interview with E! News, Anna "Chickadee" Cardwell claimed that her estranged mother, Mama June Shannon, swiped $30,000 from her trust fund in order to buy a car for her convicted child molester boyfriend, Mark McDaniel. (As RadarOnline.com exclusively reported last month, McDaniel, 53, served ten years in prison for sexually abusing Anna when she was just 8 years old.)
Though June denies snatching her daughter's profits from starring on the family's now cancelled TLC series Here Comes Homey Boo Boo, fans are rallying together to show their support for the 20-year-old stay-at-home mom.
Article continues below advertisement
Julie Tice Poulin started a Go Fund Me account to ensure Anna can feed her family, which includes doting husband Michael and daughter Kaitlyn, 2.
"I hope she can regain the money lost from her trust fund," the Georgia housewife, 41, tells Radar.
Poulin says she emphasized with Anna because she has a daughter who is the exact same age as the reality star.
"I have a 20-year-old daughter, and can't even imagine how Anna must feel right now," Poulin explains. "I can't imagine the emotions."
MORE ON:
Here Comes Honey Boo Boo
Immoral and Indecent acts: READ THE SHOCKING COURT DOCUMENTS
To donate, visit Poulin's page here.
Ever since the family's horrific scandal was exposed, Anna's friends have been offering words of encouragement on her private Facebook page.
You were always my favorite on the show, but I now have a whole new level of respect for you," Elizabeth Anderson posted. "Your strength is amazing. I wish I had your courage. Keep your chin up. We love you."
"You are an amazing big sister and mommy," wrote Julie Warner. "Stay strong."